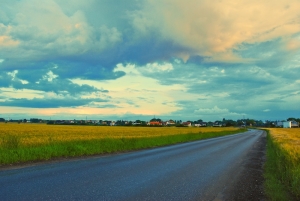 I found a folder in my file cabinet the other day that I haven't seen in a while. It's sitting on top of my computer right now, and my eyes keep drifting away from the screen and settling on it. I really ought to move the damn thing.
This folder has a collection of work that I printed off and saved from a long-ago machine, the big honking Brother I used in college that could only handle word processing. Most of the stuff in this folder is at least 15 years old, and some of it is north of 20. What surprises me about these fragments, these half-assed scenes and odd poems, is not how good they are—some are, but most stink on ice—but how much potential I see in them. I read through these pieces, and the problems I remember having with them are now readily solvable. Structure, character, plot: all of the issues I struggled with, I now see ways to resolve.
While I'd like to credit my insights with the awesome growth in my skills, most of these changes in perspective have simply come with time. There are 15 more years of reading behind me, numerous classes and workshops and other pieces that I've sweated over and learned from, and while I have indeed become a better writer, time deserves most of the credit. Learning to see things from other perspectives, learning to trust what I know and not make things more complicated than they have to be: all these and more have come with the passage of years and practice.
Revisiting these pieces has been a great help lately, because they reassure me I'm on the right track. I may doubt my skills at times, particularly after the latest addition to my rejection letter library, but I read through these pieces and know I've improved. Ever since coming back from LTUE, I've felt a renewed determination to chase success as a professional writer, and I've taken steps in that direction: picking up the revision process on my first novel, submitting stories to magazines, researching in the field by picking up my reading in the pro markets. Not believing in your talent is a common failing among writers—almost as common as hubris concerning one's skills—but having proof in your hands that your skills have increased is an excellent tonic.
Do you keep an archive of your old writings? Maybe you've got a folder on your hard drive that you've ported from machine to machine over the years, or maybe a pile of dusty journals and folders under your bed. If you do, take some time to pull them out and look them over; see how much you've improved over the years, what you've learned and what flaws you've had from the beginning, or at least earlier. If you don't have such an archive, it might serve you well to start keeping one. Even if you have no historical use for it, or get no creative stimulation from it, it'll probably provide you with a good chuckle now and then. Besides, if you do ever get successful and famous, somebody may want to start a library of your papers, and what better seed stock than your earliest labors?
Knowing where you've come from, whether in your writing, your family or any other pursuit you chase for pleasure or profit, is invaluable in helping you figure out where you're going, and more importantly, where you want to go. Taking a look back now and then is a useful exercise, as long as you don't lose sight of what's ahead. After reacquainting myself with some of the things I wrote in my first adult years as a writer—good, bad and plain inept to a disturbing degree—I have a better grasp on where I want to be, and feel more ready to take the steps necessary to get there. Here I go.