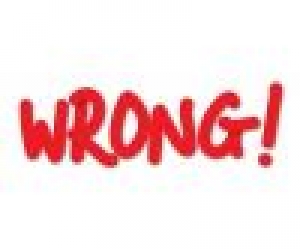 I've been writing for a long time, a really long time if you count my early formative work on my bedroom wall; and you should count that, because marring my wall with crayons and markers was my first mistake as a writer. Mom punished me. The writing itself wasn't bad. I believe those first sentences scrawled onto my wall went something like: "Luuk Skiwaker rules. Darp Vader is bad." I feel it was quality work, marrying my love of Star Wars with my newfound love of writing. Also, what I wrote was true. Luke Skywalker does rules, and Darth Vader is bad. I was making about as grand a statement as any four-year-old boy could make, other than, say, "Girls are ugly." Since then, I haven't written on any walls, and will not write on a wall again, until my inevitable stay in a mental institution later in life.
As writers, we make mistakes constantly, especially early on in our writing lives. My second major mistake as a writer came as a teenager while working at Pizza Hut. You see, I really liked this girl who worked as a waitress, and I thought it a good idea to scrawl a note to her on the back of her order pad. She was a gorgeous girl, with hair styled high like a mountain; High Hair was a major New Jersey fashion trend back in the glory days of the late-80's. So, with a red pen and incredibly sloppy handwriting, I wrote, "Hey, I really like you. Every time you walk back to the dishroom, I lose control of the pepperoni. Wanna go out?" Essentially, I was professing my love for this girl. She soon wrote back, slipping me a little note that said, "Stop staring at my ass. It's making me uncomfortable." I thought my words would charm her. They did not.
But those mistakes were relatively minor compared to the mistakes I'd make later, when I was actually trying to write for publication. When I made the decision to become a writer, I wanted success to come quickly. I would write a story and send it out immediately, before it was ready, before I was ready. Editors will remember you if you send them a bad story. They will judge all future submissions before even reading them, because they recall your name and that crappy first story you sent them. If you're just beginning on your long day's journey into write, learn the craft fully before sending out material. Do not send out a story until it's the best it can possibly be. Don't push your work until it's worthy, or it could come back to haunt you. I'm sure some editors stopped looking at my submissions because they knew how awful my early stories were. Let your stories age and ferment like a fine Kombucha tea. Only when your story is ripe, when it can no longer be improved, should you send it out. We're all eager to get our work into the world, but patience is key. Read your story, let it sit, read it again, rewrite it again, and when you're finally pleased with every word, every last comma, every major plot point, set if free. When you're sure you can let go of it and have it walk on its own, put it out into the world and see where it goes.
One must also be original. Early on, I was writing stories like other people. I was doing my version of a Salinger story, or a Stephen King story, or a whomever I was into at that time. I was writing these stories, and had my own ideas, but the style was far too similar to other writers I admired. It took time for me to write Ervin Anderson stories. There's nothing wrong with admiring another writer's work, and nothing wrong with learning the craft from the style of others, but a writer must have a unique voice, a style that sets him/her apart from the crowd. And that takes time. After you've written something you find terrific, give it a read and make sure it sounds like you and only you, a story that could've only emanated from your mind. As a writer, you are your voice. Find that voice. Make it sing. And when the song is pure, you're ready.
Finally, do not bug an editor or agent. Do not call or e-mail them constantly asking, "Hey, did you read my story yet?" They are undoubtedly reading hundreds or thousands of submissions. It's hard, I know, to wait around for weeks or months for a response, but just know that if they like your work, you'll hear from them sooner rather than later.
Patience, my dear writer. Patience.