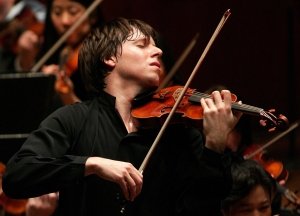 Some years ago Washington Post staff writer Gene Weingarten decided to experiment on the hypothesis: In a banal setting at an inconvenient time, would beauty transcend?
Weingarten asked internationally acclaimed virtuoso violinist Joshua Bell to play anonymously as a street performer at the L'Enfant Plaza Metro Station in Washington DC. It was 7:51 a.m. on Friday, January 12, the middle of the morning rush hour. In the next 43 minutes, as the violinist performed six classical pieces, 1,097 people passed by; and virtually all of them kept walking.
Bell's performance was an experiment in context, perception and priorities – as well as an unblinking assessment of public taste.
Bell played masterpieces that have endured for centuries on their brilliance alone, soaring music befitting the grandeur of cathedrals and concert halls. "The violin," says Weingarten, "is an instrument that is said to be much like the human voice, and in this musician's masterly hands, it sobbed and laughed and sang -- ecstatic, sorrowful, importuning, adoring, flirtatious, castigating, playful, romancing, merry, triumphal, sumptuous."
Weingarten describes Bell as a heartthrob. Tall and handsome. "His thick mop of hair is a strategic asset: because his technique is full of body—athletic and passionate—he's almost dancing with the instrument, and his hair flies." Interview Magazine wrote that his playing "does nothing less than tell human beings why they bother to live."
Bell always performs on the same instrument, and he ruled out using another for this gig. The Gibson ex Huberman was handcrafted in 1713 by Antonio Stradivari during the Italian master's "golden period," toward the end of his career, when he had access to the finest spruce, maple and willow. "Our knowledge of acoustics is still incomplete," Bell said, "but he, he just knew."
Bell began with "Chaconne" from Johann Sebastian Bach's Partita No. 2 in D Minor. Bell calls it "not just one of the greatest pieces of music ever written, but one of the greatest achievements of any man in history. It's a spiritually powerful piece, emotionally powerful, structurally perfect. Plus, it was written for a solo violin, so I won't be cheating with some half-assed version."
Bach's Chaconne, according to Weingarten "consists entirely of a single, succinct musical progression repeated in dozens of variations to create a dauntingly complex architecture of sound. Composed around 1720, on the eve of the European Enlightenment, it is said to be a celebration of the breadth of human possibility."
After three minutes and sixty-three passersby, a breakthrough occurred. A middle-age man altered his gait, turned his head to take note that some guy was playing music. The man then kept walking. Half a minute later, Bell got his first donation. A woman threw in a dollar and scampered on. Six minutes into the performance someone finally stopped to lean against a wall and listen. That's about all that happened. In the three-quarters of an hour that Joshua Bell played, seven people stopped what they were doing to hang around and take in the performance, at least for a minute. Twenty-seven gave money, most of them on the run (amounting to about $32). Over a thousand people hurried by, few even turning to look.
Bell had not expected this reaction and was frankly a little dismayed. "When you play a violin piece," says Bell, "you are a storyteller. You're telling a story. It was a strange feeling, that people were actually, ah . . ." The word doesn't come easily. ". . . ignoring me."… Ignoring his story…
Mark Leithauser, curator at the National Gallery, suggested that we shouldn't be too ready to condemn Metro passersby as unsophisticated. Context matters. In his Critique of Aesthetic Judgment, Kant argued that one's ability to appreciate beauty is related to one's ability to make moral judgments. Paul Guyer of the University of Pennsylvania, one of America's most prominent Kantian scholars, says that the 18th-century German philosopher felt that to properly appreciate beauty, the viewing conditions must be optimal.
Would it have been different if people had recognized Bell? Perhaps that is a loaded question; to recognize Bell would be to already have joined a "club" per se and to have no doubt seen him in concert. Moreover, it brings up yet another question about North Americans as a culture: do we need someone else to tell us what is beautiful and worthwhile?
"We're busy," says Weingarten. "Americans have been busy, as a people, since at least 1831, when the young French sociologist Alexis de Tocqueville visited the States and found himself impressed, bemused and slightly dismayed at the degree to which people were driven, to the exclusion of everything else, by hard work and the accumulation of wealth."
If this had been staged in a Paris Metro, say Châtelet Métro Station, I assure you that the event would have played out very differently. As I scaled the stairway to the Station lobby, I would have encountered an appreciative audience crowding around this virtuoso musician, who played like an angel. I have seen more attention bestowed on a middle-aged local French chanteur (with a so-so voice, but who sang with passion) at the busy Saint-Michel Métro Station in Paris than was apparently shown for Joshua Bell in l'Enfant Plaza Metro in Washington, DC.
British author John Lane writes about the loss of the appreciation for beauty in the modern world in his 2003 book entitled Timeless Beauty: In the Arts and Everyday Life. The experiment at L'Enfant Plaza may be symptomatic of that, Lane suggested, "not because people didn't have the capacity to understand beauty, but because it was irrelevant to them."
"This is about having the wrong priorities," concludes Lane.
Weingarten adds, "If we can't take the time out of our lives to stay a moment and listen to one of the best musicians on Earth play some of the best music ever written; if the surge of modern life so overpowers us that we are deaf and blind to something like that—then what else are we missing?"