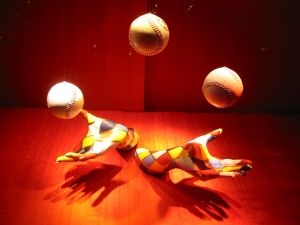 Whenever I'm working on a new novel, I'm always torn about how to describe it. Do I give lots of detail (summarize the plot, give the back-of-the-book synopsis, go into character motivations) or the more enigmatic "I'm not really ready to talk about it yet." I probably fall somewhere in between these two extremes, but I usually feel that if I tell some but not all of the plot, I don't do the story justice; if I follow the enigmatic and annoying no-information avenue, I think it makes people mad and I possibly piss off potential readers. For those who are unaware of the kind of slimy name for selling your work to someone, the term is 'pitching'. I never have liked that word used in association with books or writing projects, mostly because it seems to put them in the same category as crappy movie concepts and baseball, two things I dislike. It smacks of Madison Avenue and sarcastic send-offs of Hollywood's hit makers who regenerate and reinvent everything, recycling successful concepts until they are Frankensteined versions of their former selves. (Example: a movie concept about gay buccaneers: "Brokeback Mountain meets Pirates of the Carribean." Or how about a buddy comedy set in a World War II concentration camp: "Schindler's List meets The Hangover"? Ugh.)
I went to a writing conference in January, and one of the sessions I attended was called Perfect Pitchcraft. I went in warily, because I usually don't like workshops with alliterative titles (and yes, I know I broke my own rule with the title of this post). But I usually do have this quandary about pitching or describing my work, so I figured it couldn't hurt to hear what somebody else recommends. When the woman started the session, she explained her method for pitching and the "elevator speech."
If you've never heard of the "elevator speech," here it is in a nutshell: you have to be able to effectively describe your work in the time it takes to be in an elevator with someone (presumably a high-placed publishing executive). You have time for maybe three or four sentences, depending on whether you're in the Empire State Building lift or the two-story Castroville Holiday Inn freight elevator.
Anyway, the woman's method is a simple, three-step affair that boils your work down to a handy-dandy description that is rehearsed and fool-proof, no matter how big a fool you may be when faced with a publishing exec in an elevator. Here it is: 1) genre 2) location 3) time period 4) number of words/pages (optional)
This is like the intro to the pitch. Here's how mine would go, according to this formula: "OUT is Catcher in the Rye meets Brokeback Mountain, a YA speculative fiction novel set in the Midwest in an alternative present day."
Then you work on the protagonist description. This is the part where you get to tell more of the specifics of your story, assuming the whole Catcher in the Rye/Brokeback Mountain thing didn't turn them off. You boil down in one or two sentences the essential qualities of your main character (age, gender, name, role in this world) and any idea essential to the premise. (He's transplanted to another country, he goes through a wardrobe into another world, he loses his job and decides to become a substitute teacher…whatever is driving the story and essential to the premise.)
And the hook? This is the essential question, put into one sentence. For me, it would be something like this: "Chris must choose between following his family and religion, or his heart." It should be short, to the point, and irresistible. This is the kind of sentence you want to utter to that person in the elevator, and they simply blink, stunned at your brilliance, and say "meet me tomorrow for coffee and tell me more. I can't wait to publish this amazing piece of writing, sight unseen!" Yeah, I know.That mostly never happens.
But maybe if you pitch effectively, it will. Who knows? Harry Potter thought he was a lowly orphan but he became the biggest bigwig at Hogwarts and saved the universe.
Go ahead and try it out. Scribophile your best pitch and see what people say!