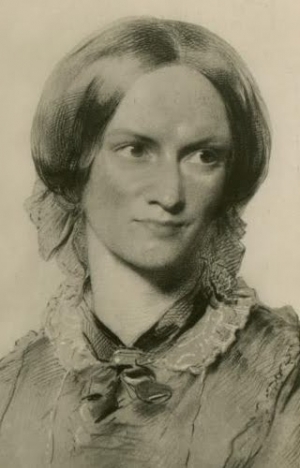 I once conceived of a character I became inexplicably attached to. She was a morose twenty-something named Marie who had a lackluster life, a husband who ignored her, and a bulldog named Professor. I knew what she looked like, what she ate for breakfast, and what she dreamed at night. I wrote about her and submitted the story to my creative writing professor. I was nonplussed when I received a dismal grade.
I confronted the professor about it:
Holly: What happened here? Why the negative response?
Professor: I think I explained why in my closing comments.
Holly: You said it lacked a plot.
Professor: Right.
Holly: I'm wondering if maybe it's because I named the dog Professor.
Professor: No. You received the grade you received because your story lacked a plot.
Holly: It's meant to be a character study, like Charlotte Bronte's Villette.
Professor: Well, Holly- you are no Charlotte Bronte.
He had me there.
I had to ditch Marie. She was too melancholy and lethargic to ever go out and get a plot. I thought Professor had promise, though. I stole him from Marie and gave him to a Dave later on.
Novels or stories that are character-driven are considered "literary" while plot-driven novels or stories are generally "genre" or mainstream fiction. Think Catcher in the Rye vs. The DaVinci Code. Once and again, there are books that are an intriguing amalgamation of the two (think Clarice Starling's psychological revelations in The Silence of the Lambs); however, exploration of a character's development usually supercedes plot in literary fiction while plot usually supercedes character development in genre fiction.
Literary fiction, of course, gets all the glory: The Pushcart Prize, the Pen/Faulkner Award, the Man Booker Prize, etc. I never got that. I often read an award-winning novel and think to myself, "Self! I could totally have written that." (I have occasional highly optimistic ideas about my writing skills. Delusions of grandeur, rather.) This NEVER happens when I read a thriller with twists and turns and an ending I just didn't see coming. When I get done with an edge-of-your-seat thriller, I think: "Self! You have absolutely no imagination. None. And you are possibly no more intelligent than a gnat."
When it comes down to it, how is a work of fiction conceived? As a story you can't get out of your head or from a character who just needs to the chance to jump on the page in order to live out his or her life? Does it matter?
Years later, I now see what was wrong with the story about Marie. I thought Marie's depression was the conflict in the story. Unfortunately, it wasn't. The depression was an aspect of who Marie was. Marie needed SOMETHING to happen to her, some external conflict that forced her to face her depression, to succumb to it, or to conquer it once and for all.  Or at least for a few months, anyway.
I thought my story started with the character. That's where I went wrong. A good piece of fiction starts with a premise- a foundation upon which the story can stand. Without a premise the story falls flat. It doesn't matter whether the writer's initial impulse is to write a character-driven story or a plot-driven story: the premise has to include both. Character without plot is boring. Plot without character is pointless. The reader needs someone to care about. However, if that character refuses to DO something or be AFFECTED by anything, you kind of want to move on.
A good premise includes both plot and character:
Character-driven story premise: Marie, a woman suffering from clinical depression, starts receiving passionate love letters from an anonymous suitor.
Plot-driven story premise: In a small town, a school bus full of small children simply disappears one morning on the way to school. A year later, everyone has given up hope with the exception of one determined mother and her alcoholic husband.
(These are lame premises. I realize this. But you get the general idea.)
Plot and character are members of a symbiotic relationship. One might be the whale while the other is the barnacle, but they are both present members of an active and generally beneficial relationship.
Does it ever happen that character doesn't need plot? Sure. If you're Charlotte Bronte.
But very few of us are Charlotte Bronte.