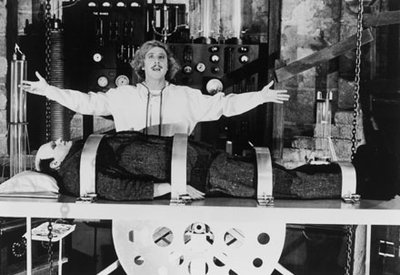 One of the troubles I have with writing fiction is that I have yet to develop a consistent process for starting. Like most writers, my Muse is not one to punch a time clock, nor is it one to deliver ideas consistently. I've written stories based on calculated premises, and I've written stories based on fragments of dreams, and in the end, I can't really tell a qualitative difference. Whether this is due to my stories being equally good or equally crap, I couldn't tell you that either. For me at least, part of being a writer is holding diametrically opposed opinions of my work simultaneously. As Grandpappy Walt put it, "I am large, I contain multitudes."
I started writing a new story the other night that sprang from a dream I had; to be more accurate, it was a daydream about the nature of Hell. Where this idea came from, no clue, although I can see a couple of its antecedents if I squint hard enough. Right now, the inspiration's not the thing. What's important is how I get to the central idea, how it works within the framework of the story…and whether or not it's a sound enough idea to support a story. It might be just an image, a cool "what if" exercise to play with on rainy days when nothing in the library fits the mood. I won't know until I get there, because part of the writing process is figuring out what you think when you write it down. Right now, I think the story is about an older fellow finding a new purpose in an old place, but I'm only a couple of pages in; nothing even remotely supernatural or unusual's happened yet. Maybe it won't.
Stories don't always go where you think they will, and that's a bottle of awesome right there. I find the idea of a creator not in total control of his or her creations thrilling, invigorating, a touch frightening and often unnerving. My latest story has a beginning, and I can see the central image I'm building toward as clear as sunlight in my head, but everything between where I am and where I'm going, not to mention what lies beyond that crystalline image, is a shadowed wood, with a weed-strewn path only partly visible in the undergrowth and a great big basalt sign arching overhead that radiates HERE THERE BE TYGERS in strobing neon letters. You know you want to go there, or one just like it in your head. I sure do.
So I do. I sit down, not knowing the path or the terrain, and I type away on my dusty black keyboard that sits perched on the tiny little table that groans under the weight of my desktop and my speakers and a ton of papers and a jar of pens and the fan I turn on to keep myself from melting into a puddle of sweat and the notes I keep on ideas that strike me out of the blue like spitting flecks of meteors in the late summer sky and…well, you get the idea. Sometimes I don't know if I'm creating this world or just exploring a found one. Either idea is fascinating beyond my ability to explain with due justice.
When I first started writing, my wonder was saved for the end product; I tended to plot more tightly as a callow youth, and since I was focused on the end result, I didn't always bother looking at the scenery on the way. Now, though, I tend to focus on the minutiae of writing, how each word falls into a cadence and joins with its fellows to create a sentence, which writhe into place with other sentences to form paragraphs, and on up the chain. I've given up the focus on plot, which strangely enough has done wonders for creating one. A friend of mine was kind enough to beta-read my novel earlier this year, and one of the things he told me that I'm trying to keep in the revision was that he liked how the novel wasted no time on extraneous crap, but told the story efficiently and with no wasted effort. I didn't consciously set out to keep the novel so tightly plotted (it was a NaNoWriMo effort, so I was consciously trying to crank out the words), but I'm glad it apparently was.
I'd like to say this particular posting had a point which I am now about to reveal in a brilliant display of rhetoric, but what a load of horseshit that would be. Truth is, I'm just damned excited about this story, where I think it's going, how I have little to no real idea of how to get there, and I wanted to share that in my typical long-winded fashion. Thanks for listening.