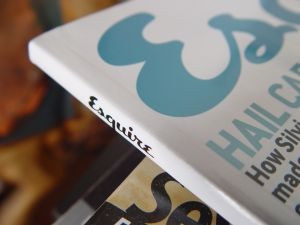 I still associate the words "personal essay" with the horrors of the college application process.  At eighteen, I found that being required to write about a memorable event in my life came out forced and uninteresting.  Years later, I'm a little (just a little) more comfortable in my own skin, and the "personal essay" is probably what I write best- if it's inspired.  I know it's "inspired" if I sit down and the writing just seems to pour out of me.  I know it's inspired if editing takes three times as long as writing the initial draft.  (I suppose it could be argued that editing should always take three times as long as writing the initial draft, but you know what I'm getting at.)
If you have written something personal, something inspired- why not shoot for publication?  All of those "true stories" you read in Ladies Home Journal or Men's Health are generally written by freelance writers.  Readers love a compelling personal narrative.
The personal narrative sells in many markets.  The most obvious markets, of course, are literary magazines.  The free and incredibly easy to navigate Duotrope's Digest can help a writer find a literary magazine interested in non-fiction.  (Creative Nonfiction and The Sun Literary Magazine are examples.) Other publications, including print magazines, online magazines, and newspapers, will also publish a personal essay, if it follows their particular specifications. 
The most important step in getting your personal essay published is to find the right fit for your piece.  What's at the core of your essay?  What demographic would it appeal to?  Start browsing through magazines at the library and peruse online archives.  Some places to start?  Parenting magazines are always keen on personal narratives relaying, perhaps, the arduous journey to pregnancy through in-vitro fertilization, the difficulty of breastfeeding after cancer, or a mom's struggle through post-partum depression.  Travel magazines are always on the lookout for a compelling true story that highlights an obscure aspect of a particular place.  And then there are the Reader's Digest-type publications, where inspiring personal stories sell.  And if you can't find a publication to take your essay, chances are someone out there is looking for unique personal essays for an anthology… just one more way to get your name in print.
To further increase your chances of publication I strongly recommend that you submit locally first.  Local publications are the best way to gain clips and credentials; they are the "stepping stones" to the big publications like Parenting or GQ.  Don't dismiss small, obscure niche publications, either.  A recently acquired subscription to Writer's Market has helped me find interesting publications I never knew existed.
After you've found a publication you want to submit to, carefully check the magazine's guidelines, and then check them again.  Make sure you send your essay to the right person at the right address; the number one reason writers aren't even considered for publication is because they make needless mistakes like getting the editor's name wrong.  We often mess up mundane details without even considering that these mundane details can make or break our chances at publication.    
Magazines love holiday pieces!  But you have to time them just right.  Send one too soon, and they will get forgotten.  Send one too late, and it will be dismissed.  Most editors ask that seasonal pieces be sent 3-6 months in advance, though some like to receive them even sooner.  Check the submission guidelines.  It's March- time to start thinking Halloween. 
Personal essays, unlike researched articles, require no query; send your finished, polished essay directly to the editor along with a brief, persuasive cover letter. And wait.  And wait.  And keep submitting. 
For fun- here's a personal essay contest being offered by Literal Latte magazine:
http://www.literal-latte.com/contests/#essay_awards
Are you a teen looking to start your professional portfolio?  This website has monthly essay contests:
 http://www.stageoflife.com/StageHighSchool/OtherResources/WeeklyHighSchoolWritingContest.aspx