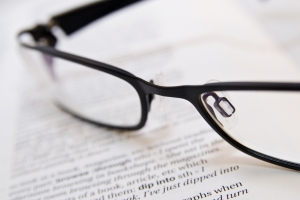 Writing is a very intimate experience. It can be easy to forget that what we're creating we want to eventually share with others (or not, and that's fine, too). We write what we like and the things that are true to us, but eventually there comes a time to prepare for an audience. If you want to get published by a publishing house, you need an agent, no doubt about it. There are various resources out there to help you on your way, and you should take advantage of as much as you can, but here are a few things to check prior to taking that next step:
1) An agent shouldn't be the first person to read your novel. You may think it is the best thing in the world, but an agent doesn't care about that. What matters is will the public think its the best thing in the world, and how can you, the writer, predict that off of a sample of one? Let people read it, take in their praises and criticisms, and adjust.
2) First novel? KISS: Keep It Short Stupid, or silly, depending on how sensitive you're feeling. A good length novel should be between 80 and 110k words. Anything below or above could be hard to market for a first time author.
3) The first five pages. I spoke with an agent who said the first five pages of the manuscript can be 'make or break.' Of course, like any element, we must remember that the whole package is how to get published, but think of the first five pages as the cover of your book. You won't pick up a book in the bookstore you've never heard of unless the cover is catches your attention and holds on tight. The first five pages should fully show your ability to create characters, smooth dialogue, tight and satisfying descriptions, and give no doubt about your writing abilities. Also, any typos or grammatical errors will surely escort you to the rejection pile.
Don't take my word for it: http://www.amazon.com/First-Five-Pages-Writers-Rejection/dp/068485743X
4) Create a synopsis. This part can really suck because you're basically cutting down your baby to a few hundred words, but it must be done. During one of your read-throughs, write a few key sentences for each chapter. Later, go through this 'summary' and cut out the fat. Minor characters, settings, and plot points need not appear. Only the parts which move the story along. Now, go through and give that summary some excitement! Imagine yourself recapping an awesome movie to someone, and the way you would phrase things. Additionally, the language on the backs of books is good inspiration.
Also, you'll want a one-two sentence story line. It is, essentially, what your story is about.
5) KISS: This time it's with the simple. Don't try anything fancy with the formatting. Twelve-point font. Double-spaced. Times New Roman.
6) Make sure the agent is right for you. You can get good breakdowns of what a particular agent specializes in from resources like The Writer's Market, or a simple google search. Think about your favorite books which have inspired your story the most and look for the agents who represent the authors. In your cover letter, you can connect one of their books to your own and make a case for why the agent is perfect for you, instead of why you are perfect for them.
7) Don't put all of your eggs in to one basket. There are many agents out there. At the same time, make sure you check and see how certain agents feel about multiple queries. Some are cool with it, others not. Remember, an agent is just as eager as you are, only they are looking for what you are trying to be. It sucks for them to read through a manuscript, think it's brilliant, and then be informed that a deal has already been made with someone else when they call to tell you the good news.
8) Research! Agents have a looot of queries letters, manuscripts, and synopses to read through, and any sloppy or naive element will hint that your manuscript will also be sloppy and naive. Read examples on how people formulate their cover letters, read the first five pages of your favorite books, look up interviews with agents to see what THEY are looking for. No part of your submission package should go without research. Your success will thank you.
These are just a few tips and I would love to hear from anyone else on their experiences with pitching to agents. We could always use more advice!