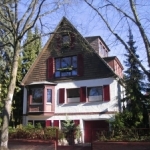 I know, I know, just last week I talked about an author and a book I read. I try to make those posts sparingly, and wasn't planning on doing another this week....BUT, like any author knows, sometimes deviations from the plan can be a good thing.
An editor I know suggested I read some of Robert Parker's mystery novels as a good example of first-person narrative. I went to Amazon, searched for his highest rated works, and wound up with Early Autumn. And now I have a (slightly) new outlook on writing. Or rather, a reminder of an important factor: simplicity.
Many of Parker's book star Spenser, a witty detective who's smart, fit, tough, and morally driven. He's a pretty cookie-cutter hero, almost cliche in his skills, but Parker makes him interesting through his dialogue, his outlook on his life and, frankly, how badass he can be at times. In Early Autumn, he takes a neglected teenage boy under his wing and teaches him how to be a man. The story itself is great, but for me, the book really shines in its simplicity.
Here's a snippet:
"Yeah, but I've got other things to find out. Can you get a handle on ballet instruction for me?"

She said, "If you'll let go of my hand I'll make some more coffee."

I did. She did. I said, "Can you?"

She said, "Yes."

I raised my coffee cup at her and said, "Good hunting." I sipped some coffee.
That, I did. She did. blew me out the water when I first read it. I must admit, though, that throughout the book the simple descriptions were jarring. But then I thought about it: what am I really missing? Do I need the author to describe him releasing her hand? Or her fixing more coffee? Not really. You might be wondering: what about the emotion and characterization that comes from the intricacies in the descriptions of their actions? It comes out in the dialogue.
When I started writing seriously four years ago I was all about description. Every little thing, action, sound, smell, step, and sunrise (oh, how I would love to describe the sunrise!....twenty times a story) would get its own chapter. I guess a part of me was afraid that the audience wouldn't get what I was trying to say. I had a very vivid image in my head of what I wanted to do and I wanted to make sure I sent that image, perfectly intact, through my words. I suppose, as a reader, I had focused too much on the lengthy descriptions I had encountered from my favorite writers. Recently I have begun to look for what writers don't say. I like what I'm learning.
So, what are the benefits of using less description?
1) Shorter piece. I read Early Autumn in about two days and felt I got as much out of the story as I should have. It could have been longer. That just would have meant this post would come a week later (or, for that matter) not happen at all.
2) Taking a blatant minimalist style will certainly be noted by the reader, and you can use this to your advantage. If actions and characters are introduced with simple descriptions, when you do decide to put a little extra energy in your narrative, it will have more impact on the reader. You ever had that moment where someone who never curses becomes so mad that they start talking like a sailor? You know then that whatever has happened to them must be significant.
3) Pacing: I don't know about you, but before I was a fulltime writer, I was a partime reader, and as a reader, I got scared when I came across humongous blocks of text. If you picked up any book I had recently put down, you would see that I stopped right before one of those pages. Having simple writing allows for the reading to go by faster and probably explains partly why I was able to breeze through the book in two days (it usually takes about a week...if I'm fast.)
4) It will help your dialogue. You have two main ways of getting information to the reader: narrative and dialogue. By easing up on the narrative, you will be forced to evoke emotion, thought, and connection from the reader through the things your characters say. It's more fun for the reader to learn through character interactions than for you to simply spell it out for them.
There is a place for rich, lengthy description (fantasy is one, especially since you are creating a whole new world). If done right it can be great for the story, but I urge you to try your hand at cutting out a lot of your descriptions, and experiment with how you can make your story move with limited narrative.
Let me know how it goes.