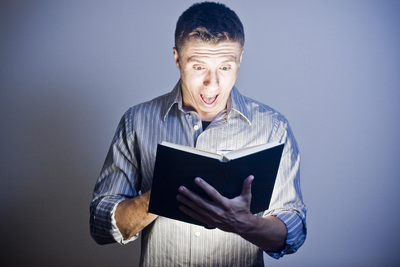 Among the other hats I wear, I work as a computer tech supporting the English department at the local university. I bring this up because last week, I was working on rebuilding a computer after the user had a series of misadventures, and I overheard a conversation that got me thinking. The subject was the news that one of the department's professors had sold a novel on proposal to a major publisher, and was rumored to have received a nice advance. The user whose computer I was fixing, a lecturer at the university, was talking to another lecturer, and mentioned that she ought to finish the novel she's been working on for the last seven years.
Now, some novels probably take that long to write, if not longer; examples abound of successful novels that took decades to ferment. But, this lecturer's novel didn't sound like that kind, from what I heard and from what I know of this lecturer. It sounded like the all-too-common kind of unwritten novel, those half-written manuscripts that sit in the bottom drawer of many a writing desk or in a nearly forgotten folder on your hard drive. There are many reasons not to finish a novel, but from what I've experienced in my own life and from what I've learned from others, I think it all boils down to fear.
Some of you may scoff at this idea. We're writers, you might say; we're no more scared of writing than we are of breathing. And that's true, up to a point. Obviously, those writers who participate in the forums and the critique queues have no fear of writing. People who leave comments, long and short, on these blog posts obviously have no fear of writing. But, it's not the act we're talking about that scares writers. It's the stakes. Writing comments or critiques or blog posts have value, but as artistic objects, they're usually pretty low-risk. Nobody is archiving these for literary glory; they're useful but ephemeral, no matter how long they're accessible.
Writing a coherent narrative piece, on the other hand, whether it's a novel or a short story or a poem, is the real deal. When you put forth that kind of work, and doing it for real, you're putting your talent, your knowledge, your best essence as an artist on the line. If you're actually working at your best, regardless of subject or genre, everything you have to bear on the work should be on the page. That is a frightening proposition, because if it fails, you fail. Writers don't often talk about this in so many words, but you can feel it when a piece works. No matter how safe the material or approach may look, a writer working on all cylinders is taking a risk. If he or she is not, then it's just typing.
I think virtually all writers understand this at some level, which is why so many of them don't write as frequently or as disciplined as they feel that they should. It's easier to blame lack of time or inspiration or the crushing burden of daily life than it is to face that tiny demon of doubt that says, "I don't know if I can do this. What if I fail? I don't think I can face failure. What does that say about me? Am I lying to myself? Maybe I'm not really a writer; maybe I'm just fooling myself."
I know that fear. I've written (written, mind you, not published) six books, a ton of poems and short stories, and a shitload—"shitload" is a technical term—of columns and essays, and there are days when I look at the blank white page and think, "What the hell am I doing?" Every time I write something that means something to me as an artist, I feel that fear, that dread of failure. Worse, that dread has stayed with me. By some yardsticks, I am a complete failure as a writer; by others, I'm a resounding success. Regardless of which yardstick I use at any given moment, that dread informs my writing; at some level, it's always there. Some of you may not, and while I'm inclined to think that those who don't are fooling themselves, I'll grant that it's possible to not feel it and still be a writer of some worth.
To the rest of you, I can only tell you that fear you feel is natural. Creating art or entertainment or whatever you want to call it should entail risk. You should be pushed, even if just a little, beyond where you're comfortable. There's no way to know where the road goes unless you travel to its end. In some ways, that dread means you're going the right way: cherish that. Press on, and if you fail…well, as far as the art is concerned, the failure can only last until you begin anew. Everything else is just logistics.