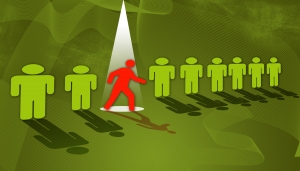 At first, I thought Infected was a simple zombie novel. I don't know why I thought that, but zombie novel or not, emusic had it listed under horror audiobooks and the reviews weren't too bad, either. Not to mention, the damn thing cost two whole credits! Most are only 1, so I knew it had to be a gem.
I listened to the audiobook with increasing interest. I don't think I found out until later that Sigler narrates his own books (and we'll get to more on that further down the page), but from an avid audiobook listener, he did a damn good job. Audiobooks can be a gamble sometimes because not only does the book have to be good, but the reader as well. Get a bad combination and you may be moved not to pick up anything by either again--audio or otherwise. I admire a writer who can narrate his or her own work. It exemplifies a certain connection to the writing. You get to feel the emotion behind the story.
Speaking of the writing, just what does this guy write about? Well, I'll tell you.
Infected is about a mysterious disease turning people in to crazed maniacs. Cut off your own legs and then set your house on fire crazy. As the novel progresses, the origins of this virus become more and more clear and suddenly the book is about something very different then first thought. There are some really twisted moments and while I wouldn't call it 'scary,' I'd definitely award it its fair share of thrills.
As for characters, some were memorable, others not so much. The good news is that the former provided some pretty interesting profiles.I particularly found the dialogue entertaining, even if it's hard to accept that 90% of the population has a sarcastic/witty line hidden up their sleeves, just waiting to deploy. Either way, the conversation between characters was sometimes more entertaining than the action (which was not boring by any means), and there were definitely a few laugh out loud moments. Sigler is also good at incorporating modern-day lingo in to his dialogue and fresh metaphors in his prose. When he compared one character's facial expression to one of someone who had just been asked to 'suck a cock with some ice cream and cherries on the top' (or something much better written...I forget), I just about died laughing.
Needless to say, I was satisfied with Infected, but wanted to see if this Scott Sigler was a one-hit wonder dude. So I picked up the sequel. So far, Contagious is just as much a page-turner and even more character-focused. Aspiring writers can learn a lot, I think, from how Scott develops and destroys relationships through words, actions, and sacrifices. Characters make some tough decisions and the reader actually feels the gravity of these choices as opposed to simply being told it exists. There is a particularly cool relationship transition between two characters from 'ready to slice each other open' to a strange, yet believable, friendship. Cliche sounding, I know, but what isn't these days? Scott pulls it off well.
Oh, and there's a seriously badass little girl leading the show in Contagious. It is a brilliant choice of character, and at times the innocence of a child superbly blended with an evil the world has yet to know is downright creepy.
Okay, so he weaves a good tale. A lot of people can. The real reason I'm spotlighting Scott today is because of his success through digital media. You can find just about all of his novels as audiobooks on his website...for free. I wish I would have known that before spending the 4 credits!
A main goal of any writer should be to connect with his or her reader. Sure, this should unarguably be achieved first and foremost in the writing, but Scott has opened himself up to so much more. When you register on his site he asks for names and pictures: he's 'a lot better with faces than names.' Oh, and also so that he can describe you accurately on his writing. That's right folks, he puts his fans in his novels. These characters are likely to suffer a painful death, but it's still cool, nonetheless. He has a forum which he responds to regularly and even a section of the site to guide those who want to contact him for promotions, interviews, etc. Talk about a journalist's best friend!
A big part of Scott's site is his podcasts. He started doing them in the 90s and has done them every week ever since. Their value, you ask? They give him a grounded quality, something hard to find in writers, and even harder for writers to hold on to. Despite being an NY bestselling author, Sigler constantly reminds his fans that he needs no reminding of why he writes.
I think it's important that writers don't forget the people who support them when they become successful. You'll hear a lot of people talk about their favorite author, and how their best writing was their beginning. I believe that partly comes from authors becoming disconnected from reality. This isn't the case with everyone, just as this isn't avoidable for everyone. Establishing your own community with readers who trust, admire, and aren't afraid to be truthful can go a long way.
And it's a great marketing tool ;)
Editor's note: Scott Sigler can also be found at backmybook.com, a site run by some friends of ours for writers looking to promote and sell their work.