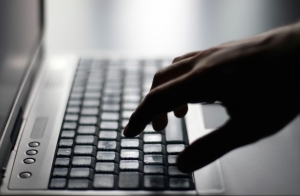 Note from Alex: Join me in welcoming our newest Scribophile blogger, Dan Tricarico! Dan is a high school English teacher, creative writer, and editor of the on-line literary magazines LITSNACK (www.litsnack.weebly.com) and FLASH PARTY (www.flashparty.weebly.com). He enjoys reading mystery novels, watching movies, and writing in fast food restaurants with all-you-can-drink-beverage bars. He'll be filling in Ervin's blogging shoes with interesting and educational posts every Wednesday. I feel like the president of The Hair Club for Men.  In the old commercials for his hair replacement program, the president, who looked like a Regular Joe, gazed earnestly into the camera and said, "I'm not just the president of The Hair Club for Men; I'm also a client."  Before and after photographs then appeared on the screen showcasing this man's head as it transformed from having an abbreviated ring of  hair on the perimeter of his cranium to a full mop of dark wavy locks.  He might have even had bangs, I'm not sure.
As I post this first blog with Scribophile, I feel compelled to tell you that I'm not just a blogger at Scribophile, I'm also a client.  I won't just be standing here on my soap box (read:  kitchen table) and pretending to share great truths about writing.  As I'm sure you know, great truths about writing are elusive.  On the contrary, I plan to be in the trenches with all of you, rolling up my sleeves, preparing to do the work, struggling to push nouns against verbs in a way that move people.  In fact, I've already started:  I've set up my account, I've joined circles, I've became a fan of other writers.  As soon I as I get settled, I plan to do everything I can to increase my Karma (a Life Goal, as well).  Given that I'm a member of several other on-line writing sites (which shall remain nameless as I am excited about my job as a blogger for Scribophile and plan to keep it), the apt question is:  why join another writing website?  What's in it for me?
As it turns out:  Plenty.
A few reasons I'm happy to be at Scribophile include:
A sense of community.  The Internet is a magical place.  Never in the history of the world has it been possible for more people to be in the same place doing the same thing.  Before connectivity, you might—if you were lucky-- find a handful of people in your own town, start a reading or critique group, and get a few suggestions of varying quality about your article, poem, or story.  At  Scribophile, you are connected to writers from all over the planet, who provide varying perspectives, ideas, and approaches.  All from the comfort of your latpop, smartphone, or iPad.  Magic.
Motivation. I don't know if there are stats to back this up, but I'm willing to bet that Scribophile members write more than non-members.  The Motivation Quotient is high because so many committed writers are concentrated in one locale. These writers are here to encourage, prod, inspire, nudge, and support you as you work toward being the best writer you can be.  And they expect the same in return.  Scribophile helps you show up and do the work.  If nothing else, you can motivate yourself by looking at the posted pieces and think "If that hack can post a story a week, I'll post two!"  Whatever works.  I like to think of Scribophile as my virtual cheerleader.  Minus the short skirt.
Tips, Techniques, and Resources. With such a huge community of writers, editors, and business people at my disposal, I'm amazed at the number of tips, techniques, and resources available to me.  I have access to writing models from other scribophiles, promising contest opportunities, and helpful links to other writing resources and websites--not to mention the wit and wisdom of my two fellow bloggers.  All at the click of a mouse.
You're probably thinking:  okay, Mr. New Blogger, we've been here a lot longer than you; tell us something we don't know. I have no doubt that you are already partaking of the wonderful opportunities at Scribophile and know all about its advantages.  I just wanted to say hello for the first time by showing you that I was aware of these advantages as well.
If this post is my "Before," I can't wait to see my "After."
I would also like more hair, please.