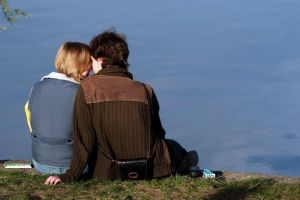 When I was a teenager, people always checked out books with dirty scenes from the library. That was probably because all my friends were geeky readers, but still. The good parts were always dog-eared and smudged with the repeated readings of horny, hormonal adolescents. My point is, as long as there has been literature, there has been a certain appeal in the romantic scene, and the "good parts" of novels. (Summer of '42, I'm looking at you.)
Here's my question: how far should it go? Obviously, when we're talking about adult fiction, there are few limits. Personally, I find sex scenes far less objectionable than torturous violence, but based on current movies and their ratings, sawing somebody's limbs off is way more acceptable than two people making love. Thank you, Puritans.
When dealing with young adult fiction, the lines are less clear. Certainly teenagers are knowledgeable about sexuality; just check the ads on Facebook and you get a first-rate education. Netflix is always stocked with racy fare, and HBO is a nudie fest. Cinemax has a porn channel; they don't even pretend that it's anything else. My point is that kids are exposed to a lot more sexuality at a much younger age than in my time (insert old-lady dinosaur voice here). Why, back in my day, Peyton Place was daring! Young ladies who found themselves in a delicate condition were conveniently sent packing for nine months. Nancy Drew never even got to heavy petting. The Hardy Boys worked any hormonal rages out in football and clue following and a lusty slug of root beer.
I recently had this conversation with a literary agent. I'd written a scene between two seventeen-year-old characters, and I hadn't included any really gritty details, but it was pretty obvious what was going on. I really wanted to try and portray the sensations and the out-of-control emotions that accompany intimacy, and how that's different when the people involved are young and inexperienced. The agent felt that the scene was too graphic for YA (young adult). I'm not sure I agree.
Since I work in a high school, I hear lots of conversations (many of which are likely exaggerated bragging) but I do know one thing: young adults know a lot about sex. Even if they don't participate, they know about it. Many may choose to abstain for personal or religious reasons, but they know how things work. I don't think writing around that reality is appropriate, really, because it just points out that we don't really get their world.
I sometimes remember fondly those days past that I never lived. You know, the '50s, where everybody wore promise rings and heavy petting was considered a serious offense. I remember this time as a time of innocence, although that manufactured memory is likely the product of too many episodes of Happy Days. I sort of wish that teenagers didn't rush into things, and that they waited until they really cared about someone before jumping into physical intimacy. But for many of them, that isn't reality.
So, what do we do as writers? Do we paint the world with the colors of reality, or try to cling to a little innocence while we can? Or does it depend on the characters and the situation?