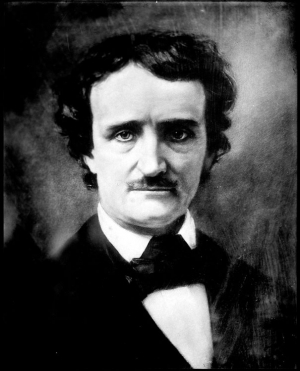 What do Margaret Atwood, Mark Twain, Edgar Alan Poe, and Beatrix Potter all have in common?
They all have the middle name "Bruce."
I kid.  In fact, they are all authors who at one time or another self-published their own work. 
A few centuries ago, self-publishing meant handwriting and binding your book over and over again and then peddling it to friends and family and local markets.  Today, authors still peddle their self-published titles to friends and family, but selling it to the masses has become easier, what with the internet and UPS. 
Over the years, the definition of the word "publish" has changed.  Originally, it simply meant "to make public."  After Guttenberg invented the printing press in 1445,
the definition of publish expanded into the following: "to issue (a book, engraving, etc.) for sale to the public."
Today, the word has evolved once again:  "publish- to produce and issue (printed or electronic matter) for distribution and sale." 
Of course, the literal meaning of the word "publish" and the publishing industry's meaning are vastly different.  Technically, whenever someone writes a complaint into their local newspaper and it is printed, they are a published writer.  Whenever I post a new blog entry, I am a published writer.  If my 7-year old writes a story, staples the pages together, makes copies and distributes it to his grandma, his teacher, and 16 of his closest friends, he is a freaking published author, thank you very much.
The publishing industry, large presses and small presses alike, consider a published author to be a person who has been published by them.  Being published by a press gives an author automatic credence: we know the writer was considered talented or relevant enough to catch the eyes of publishing professionals, and we know that the work has been edited by someone besides the author. 
Since The Cambridge University Press opened its doors in 1534, did self-publishing become a) less necessary? Or b) looked down upon?  (I don't know the answer and am not going to do a whole research project on the publishing industry.  Your thoughts and opinions, however, are welcome.) 
I think we are in the midst of a publishing renaissance.  Electronic publishing, self-publishing, and the slow decline of print magazines and newspapers point are surefire signs that the way we distribute writing is changing.  This isn't necessarily good or bad, but change frightens people.  Agents and editors wonder if they'll be relevant in this new era of publishing. (And I truly hope they will.  We should all have enormous respect for those who put so much of their heart and soul into another person's work.) Publishing houses worry when a book like The Shack makes the New York Times bestseller list.  They lash out against self-published authors and self-publishing companies, and they write vitriolic, polemical pieces about the demise of culture. 
Most of the negativity surrounding self-publishing comes from the big publishing houses (their authors, editors, etc.) while most of the encouraging information comes from the self-publishing companies, who stand to gain a profit.  It's understandable that a writer considering self-publishing would feel conflicted.  There's a lot to consider.  Is self-publishing "cheating?"  Do people actually read self-published works? Can a self-published book ever make any money?  How do you market a self-published book?
There's no clear-cut answer to any of these questions.  Today, your book is much more likely to be read if it's been published by Scribner- but that answer may very well change within the next 10 years.  If an internet video about a boy whose brother bit him can go viral, it seems anything is fair game in an increasingly digital world. 
Next week:  I'll tell the story of a friend of mine who has successfully self-published his book and insists it's the way to go…
The week after?  I'll thoughtfully respond to this guy's post, entitled:  Why People Hate Self-Published Authors.
Just for fun, here are some books you didn't realize were originally self-published:
What Color is Your Parachute by Richard Nelson Bolles
The One-Minute Manager by Ken Blanchard and Spencer Johnson
The Christmas Box by Richard Evans
The Celestine Prophecy by James Redfield
The Elements of Style by Strunk and White
A Time to Kill by John Grisham
The Joy of Cooking by Irma Rombauer
Legally Blonde by Amanda Brown
Additional reading: 
 Who Needs a Publisher Anymore?
John Edgar Wideman Embraces the Future