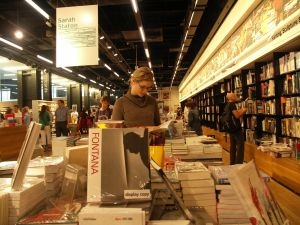 When I read this post, entitled Why People Hate Self-Published Authors, by one Thomas Scott McKenzie, it immediately rubbed me the wrong way.  I wrote an initial lengthy, vitriolic response filled with phrases like:  "Sir, you are quite mistaken!" and "WELL I NEVER!"  Then I read it again, calmed down, and am now writing this more tempered piece.   (Whenever you have a passionate gut reaction to a piece of writing, you should probably make sure to read it more than once.  I learn these things the hard way.)
McKenzie suggests that SOME authors who go the self-publishing route do it simply to inform the world that they are a "published" writer. 
Unfortunately, his suggestion is all too true, and I have seen the folly in it.  There are people who think:  "I have a story to tell!  It is an important story that ALL THE WORLD should hear!  I don't care that I don't know how to properly use apostrophes;  nor do I care to learn the difference between to and too, their and there, or peak and pique- these are frivolous things that only the snooty publishing houses care about!"
In a past life, I was a manager at a large bookstore, and self-published authors would regularly come in and demand that we display their books in a prominent location where every customer would be sure to see them.  One such book was by a woman who had written about her near-death experience and glimpse into the afterlife.  It was, in a word, awful. 
Had no one told her she was a terrible writer?  That she could not write a coherent sentence?  That her pages read like the journal of a mental patient? 
To her, these things didn't matter, because, damn it, couldn't we all see?  She was a published author!  She had a book with her name on it, one that had a cover page with a sentimental dedication to those who had "inspired" and "supported" her. 
She is the perfect example of McKenzie's description of the following type of people:
For the people who invite the derision, their obsession with the "published" tag makes all the difference in the world. And they don't seem to realize how it's a meaningless title when you bestow it upon yourself.
ON THE OTHER HAND:  McKenzie doesn't aptly communicate that this is not always the case- that "published" is a meaningful title if you go about self-publishing the right way.  If an author follows the proper avenues, has a well-written product that has been edited and polished to near perfection, and if they understand that "published" does not equal "entitled," then that self-bestowed "published" tag can be something to be proud of.
After all, there are a lot of reasons why people take the self-publishing route.  Perhaps they have sent their manuscript to hundreds of agents and publishers only to hear, "This is well-written and intriguing, but unfortunately I don't think there is a market for a book like this at this time." 
When you self-publish, or go with one of the more questionable print-on-demand services, you are essentially going around that system. You're taking your ball, going home, and making up your own game in the backyard. Your game might be fun, it might be valid exercise, it might be the perfect thing for your situation, but it's not the same way all the other kids play. And to pretend otherwise is to invite scorn and derision.
THAT was the paragraph that made me bristle.  Because self-publishing is not "making up your own game in the backyard."  Self-publishers, after all, preceded Random House and Penguin.  Self-publishing was the original game.  The current publishing industry, it might be said, is the entity that has made up its own fickle rules. 
A good book is a good book, no matter how it was published- or whether it has been published at all. 
And, I think this was perhaps McKenzie's point, too.  If you write, you are a writer.  Period.  Publishing or not publishing doesn't and cannot diminish that fact.