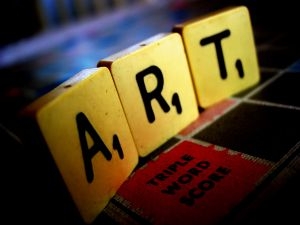 As my senior students approach the end of their high school tenure, another teacher in my department proposed an idea she had seen at another school. It was to have the students create six-word memoirs, which are essentially your parting words to the school, combined with a photo or montage or drawing that relates to the memoir in some way.
My students thought this was a ridiculously easy assignment. Six word? No problem. But when they finally started to think about it, they came to the conclusion that most writers reach: it's tougher to write short than to write long. Saying something meaningful in six words is much tougher than writing a weighty, wordy treatise. It may take less overall effort, but to create something memorable, something memoir-worthy, requires a good deal of brain sweat.
I've learned this lesson many times over while teaching creative writing. During my first year, students asked me if, for their short story assignment, they could write entire novels. I was thrilled! They wanted to write! They wanted to write more than was assigned! Admittedly, this is a problem most English teachers don't have. But when I saw the results, I noticed that often the product was verbose, full of clichés and dead ends, full of bad, meaningless dialogue and irrelevant detail.
The second year I taught the class, I limited them to ten pages. Again, they asked: can we make it longer? We want to write a novel! Again I acquiesced, tickled that they were on fire for prose! Again, by and large, the same result: overblown stories with overwrought descriptions, dialogue that showed little of the characters, and lovely sentences that never coalesced into anything. I don't fault them; they are doing what most new (especially young) writers do. They are flexing their literary muscles. For the first time, perhaps, a teacher has asked them to let their imaginations run wild. Those imaginations have been penned up for years, and once they're set free, they want to run for miles.
Next year, I plan to cut the requirement to even fewer pages. I will explain to them what I have learned: writing short requires a skill that all writers need. We all need to acquire a sense of what is needed and what is extraneous, of what is serving the story and what is simply showing off. I've taken this advice to heart; I've been savagely editing my novel, winnowing away the verbiage like so many creeping ivy vines that are trying to choke my prose.
Back to those six-word memoirs. Imagine if the famous literary giants of our time had to write them! What would they say? I have a few I've composed, simply for the fun of it:
F. Scott Fitzgerald: Jazz swings 'til money runs out. Edgar Allen Poe: Ravens' beaks speak eternal darkness. Absinthe. Charlaine Harris (author of the Sookie Stackhouse books aka True Blood. Not on par with the other two writers, but...) Vampires suck! But they make money.
Let's hear it! What would be your six-word memoir? Or can you create one for some other famous writer?