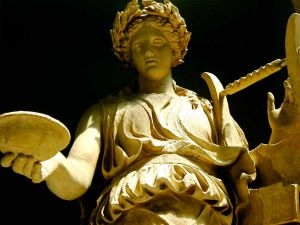 The Muses were the daughters of Zeus and Mnemosyne and were said to inspire artists, poets, philosophers, and musicians. Today, artists and writers still refer to waiting for inspiration from their muse. And like many of you, sometimes I feel like I'm a slave to my muse. I've always been jealous of those people who are perfectly content not committing a single thought to a notepad, typewriter ribbon, iPhone, or Word document. I'm not one of them. But like that woman I dated from the community theater, The Muse is unpredictable. She comes and she goes.
Regular readers of my posts (now there's an assumption for you) know that I don't believe in Writer's Block. As someone once said, "Plumbers don't get Plumber's Block." That's why it's important to think of writing as a craft as well as an art. Given my hard-line stance against Writer's Block, I thought it was only fair that I offer some suggestions about what to do when the words won't come. Here are a few things you can to do recharge your muse:
Music. Spend some uninterrupted time listening to your favorite music. Lie down on the couch at night, after the dishes are done and the kids are in bed, and the hubby is on the office computer playing WoW, and put on whatever works for you. As a classic rock fan, my poison might be Joe Cocker, The Band, The Beatles, or Bob Dylan. For something more soothing, I might choose Boz Scaggs, Leonard Cohen, Sarah McLaughlin or Nora Jones. Close your eyes, breathe slowly, and be inspired by people who are genuises in an art different than your own.
Scenery. For some, scenery inspires. Enjoying the natural beauty in the world can fill us with the desire to create and add our own version of beauty to the world. Take a hike along a wooded creek. Arrange a day trip to the mountains. Have a picnic at the bay. Commune with a Sandra Bullock movie. Whatever scenery works for you!
Art. Spend some time in a local museum. Explore paintings, sculpture, installations, whatever's out there. Museums are typically quiet, they allow you to stay as long as you like, and they are full of other artists whose vision and work can give you inspiration and artistic sustenance, as well as ideas for your own work.
Read. William Shakespeare, David Mamet, and Raymond Carver are only a few of the authors I turn to when I want to reacquaint myself with my muse. Reviewing the works of the greats inspires me, focuses me, and creates in me a desire to emulate on my own pages what others have done before me. Steeping myself in the words of my favorite writers almost never fails to drive me back to the keyboard.
Social interaction. Getting out into the world and getting involved in life is a great way to recharge your creative spark. Work in a soup kitchen or homeless shelter. Do a ride-along with the local police department. Take a pottery class. Shadow a hitman (on second thought, I guess there are limits). Push yourself outside of your comfort zone and do something you wouldn't typically do in a place you wouldn't typically do it. I guarantee that you will find ample fodder for plots, characters, themes, and conflicts. Go!
Solitude. Never underestimate the benefits of being alone. To me, it is one of life's gifts. Find a quiet place, breathe slowly (breathing is the Life Force and connecting back to the Life Force is always a good technique for centering ourselves), and reconnect with your heart and mind. Let thoughts flow in and out, come and go, but do try for awhile to focus on absolutely nothing but your breath. Call it what you will--meditation, prayer, or loafing—but being still and listening to the current of The Universe is an often overlooked method of getting in touch with what's true and real in all of us. Then write.
There are people--I'd call them something cute like "Muggles," but that name is taken--who are just fine, thank you very much, watching baseball, HBO, or old episodes of "Married. . .With Children," and when they ask me what I'm going to do that night, I grumble something about having to work out the conflict resolution in my story on the divorced couple at the park.
I can't NOT write.
Sometimes I think I'll give it all up--who needs the grief (the rejection slips, the expensive ink cartridges, the missed sleep, the time sacrificed in the name of art), and then I'll get an idea for short story that might be "just right" for the some obscure literary journal, and I scramble to the computer. Sometimes I genuinely wish I could walk away, but I know that as miserable as I sometimes am trying to wrestle interesting words onto the white space, I'd be more miserable if I lived like so many others whose thoughts remain unexpressed. What do you do to recharge your Muse?