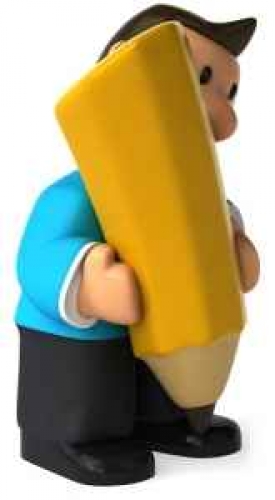 Do you really want to be a writer? Of course you do. You've got ideas, maybe you've dabbled and it felt good, and now you want to really give it a go. You've thought, "Could I really be a writer? Can I do it? Do I have the discipline? Will my stories be interesting and different?" Maybe you haven't written a story since college, or even high school. Maybe you've written a few stories for your own amusement. Maybe you've written about your life in your diary or personal blog. But something's been eating at you. You want to try and be a writer, a real writer, a professional writer. You convinced yourself that you could do it. Then you convinced yourself that you couldn't do it. Finally, you thought, "Screw it! I'm just going to write and make it happen. Failure be damned!" Now all you have to do is write, and write well. No problem. You're going to be great.
If you've just returned to writing after a long break, it may not be an easy road. When I started writing stories, after I decided that writing was going to be my life, whether I failed or succeeded, my initial stories were poorly written. I had ideas and stories and characters, but I'd forgotten much of the basics. I remember one sad day where I had to sit for a minute and think because I couldn't for the life of me remember what an adverb did, but it was simply a case of stressing myself out. I had to relax, take a few deep breaths, and just let the words flow. Start small, a short story, then another.
A first draft doesn't have to be perfect, doesn't have to be anywhere near perfect; it's simply getting your ideas out. The editing process is where the real work is done. Don't be afraid to write badly, because you'll fix it later. A first draft for a writer is akin to a sketch a painter might do before he puts paint to canvas. The first draft is just your test model. Much of what you write initially will not make the final version. Discover your characters. Set them on their path. Write. And when you're done, read it over and find out what works and what doesn't. Then fix it. Don't be discouraged if your stories aren't what you imagined. Eventually, when you've relearned the craft, your stories will start to become everything you've imagined.
So, now you're writing. The stories are coming, each better than the last. If you're writing every day, even if it's just an hour a day, you will improve. If you've made the conscious decision to give this writing thing a real shot, you need to be writing during every spare moment. You need to set aside a block of time that's just for you. No family, no friends, no television, no internet surfing. Just you and your ideas. Those ideas are your new best friends. You have to be committed; otherwise, you'll never be as good as you can be.
Now you've got a few stories you're proud of, so why not share them? Get input. Let the world share in your passion. Send those stories out, but expect rejection. There may not be as many outlets as there used to be as far publishing goes, but there are more outlets than ever on the internet. Find your niche, whether it be horror or romance or humor or literary fiction. If horror is what you do best, target your potential market, find those places that publish work like yours, and keep sending them stories until they read the one magical tale that captures their attention. If you are writing horror, read as much horror as possible. What makes those published stories good? What caused the editor to read a certain story and think it was good enough for their magazine or journal or website? You certainly don't want to copy someone's style, but you do want to note the things that work in other people's work. Were their characters exceptionally developed? Was the story exciting? What kept you turning the page? Remember: a reader needs a reason to stick with a story; give them something on every page that compels them to keep moving forward with your story. If your story has a lull, your going to lose the reader.
Okay, so you've written some great short stories. You've grabbed hold of your style and know your market, and you're feeling great. What's next? Well, that novel you've been preparing for, of course. Maybe one of your short stories could be expanded into a novel. Maybe you've got a great new idea. It's time to get to work! Your journey is just beginning.