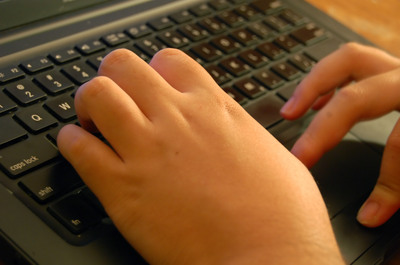 "Hey," you think after a showing of Adventureland, "I could write a better movie than that."
Congratulations! You've just joined the ranks of millions, including the entire city of Los Angeles, on a frustrating, frequently soul-crushing adventure. It'll make you laugh, it'll make you cry, and if you're lucky, you might just come out of the experience with a manuscript someone actually wants to read. I'm going to help you do that by summing up a year's worth of advanced college courses in one blog post.
To begin, obviously, you need an idea. But not just any idea - if you're going to succeed, you need to visualize your story on screen. A tale about the history of dentistry or an army of mutated cockroaches doesn't generally make for great cinema. Some stories are better suited to books, some to plays, some to print advertisements, and there's nothing worse than a plot that's sandwiched into Final Draft when it doesn't belong, just for the heck of it. Novels can frequently get away with little in the way of plot if there are strong characters the reader connects with over the course of three hundred pages. A screenplay has a hundred pages to get in and get out, so there's no time to waste. Sometimes you have to accept the fact that a much beloved plot just isn't screenplay material (which in no way means you can't use it for something else.)
Once you have your plot, you need to identify and create backstory for your protagonist and antagonist. Remember that the antagonist is not necessarily the Big Bad, but the one actively preventing your protagonist from achieving his or her goals. For example, Darth Vader is the antagonist of Star Wars (the original trilogy), not Emperor Palpatine, because Vader is the one constantly getting in Luke Skywalker's way. In When Harry Met Sally, Harry is the antagonist because up until the last few minutes, he's preventing Sally from getting what she wants - her happy ending with him. Casting your characters with well-known actors or actresses can be a good way of maintaining voice.
Here comes the fun part. While I don't believe you have to outline, it certainly helps to know how the story ends before you begin in order to make sure you get there in the allotted amount of time. Every successful movie (and several unsuccessful ones) can be broken down into four pieces: the 17-minute point, the 30-minute point, the 60-minute point, and the 90-minute point. The best English-language films fit this frame - screenwriting is nothing, if not formulaic. Which doesn't mean that the movie itself can't be original, the points are simply a spine to hold the movie upright. What you put in between those vertebrae can turn a film from recycled to revolutionary, but without them, a unique masterpiece will collapse under its own weight.
A 17-minute point? How completely arbitrary is that? Don't look at me - it works. Given that every page of a screenplay is roughly equivalent to a minute on screen, on the seventeenth page of your script you need to introduce the main conflict. Those first seventeen minutes are about grounding the world you've created, showing off the typical life of your protagonist, then - BAM!  On page seventeen something happens that propels that character into the rest of the movie. If it comes a page too early, the story feels rushed. A page late, and the audience is checking the clock. It's hard to imagine one page could make that much of a difference, but a minute in film is an eternity, and flow is the most important aspect of a good script - the tighter the better; save your prose for your novel.
At the 17-minute point something happens, and then the character spends the next thirteen minutes deciding what to do about it. By the 30-minute mark, the character is locked into the situation. There's no turning back, an obstacle is placed in his path that makes it impossible to go anywhere but forward. Thirty minutes is the moment when your protagonist realizes they'll have to deal with situation, like it or not. Unlike the 17-minute point, the 30-minute point and subsequent points are a little fluid, so if they come a few pages before or after page 30, don't panic.  The 60-minute point of a script is the low point, that moment in the movie when you make the audience think that maybe your protagonist won't actually achieve his goal. One hour in and all the shit hits the fan. In Juno, for example, the 60-minute point comes when Mark, the adopted-father-to-be puts the moves on pregnant sixteen-year-old Juno, and tells her he's leaving his picture-perfect wife. Suddenly Juno's ideal family for her baby is a sham. 90 minutes signals the denouement. After an hour and a half, it's time to start wrapping things up. The movie comes to its conclusion for good or ill, and everything after that is just tying up loose ends. Again, the 90-minute point is only a guideline - some films don't even make it to 90 minutes, but that doesn't mean they don't have a 90-minute point.
The other thing that might help you maintain that necessary flow is to read it out loud. Screenplays are meant to be read - and sometimes the meaning of a line can be lost in translation between the page and the actor. Listen to how your words sound, and if anything trips you up, it will undoubtedly trip up an actor. Remember that the person performing won't have access to your thoughts, so you have to make sure the dialogue speaks for itself.
Okay, I've got a really good analogy: think of a screenplay as a human body. You start with the skeleton, a basic frame, though how tall you want it, or whether it's male or female, that's up to you. Then come the organs and the tissue, the meat of the script, if you will.  That's your emotional arc. The final layer is the skin, the details that can take ages to perfect. Sometimes your completed script will have acne, but that's all right, because the key to good screenwriting is practice. It's highly unlikely the first script you finish will be salable, but you will still have finished it, which is a pretty major accomplishment. Then it's just a matter of starting all over again.