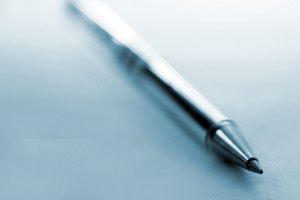 So I was reading an anthology just the other day, one of the more important ones in this particular field, the annual best-of collection. The thing would probably stop a bullet, but I read fast, and thick tomes don't daunt me. Anyway, I suspect it had a lot to offer (I had already read a few of the stories collected, and knew they were good), but halfway through the introduction, I snapped the book closed and threw it on the pile to take back to the library post-haste, pissed off and ready to move on. The reason for my pique: editing. There wasn't a whole lot, and what there was seemed a little lacking to me.
Now, I am a professional copy editor and proofreader, so I'm probably a little pickier about this kind of thing than others might be. I know this, so I'm willing to let some things slide. Hell, I'm not perfect; I think my prose makes that clear, n'est-ce pas? A couple of minor errors here and there, no big deal, but after five or so in as many pages, my finely tuned WTF sense starts going off. Transposed letters, singular/plural disagreement, missing articles: these things build up.
If this level of oopsy-daisy text appeared on a blog post or a limited-run publication from a tiny publishing house run out of some dude's garage, you wouldn't be reading this 'cause I would have let the whole thing go. Having put in time on tiny publications with more work to do than time to do it in, I understand the sacrifices that limited resources impose. But, this anthology was not the case. This was a flagship collection, representing the professional pinnacle of the field, with high-profile writers and editors involved at every step. At that level of professionalism and supposed quality, such errors are utterly inexcusable. No, I'm not going to identify the book, because the folks involved have the money to sue me if they feel like it, and my wife's not finished with law school yet.
My point—and there is one—is that a professional presentation demands professional attention, and in publishing, that includes copy editing and proofreading; in fact, I'm mortified that I feel it necessary to say this. However, as my experience with this anthology illustrates, it might not be a bad idea to say it out loud, so to speak. So, here it is, my advice to you, dear reader: Unless your writing is kept hidden from all eyes but your own, make sure you do a minimum of one full proofreading pass on anything you send out or show to someone, anyone else. One really isn't sufficient, but we're talking bare minimum here.
There are two reasons to do so. The first, obviously, is to catch errors. The second is a little more subtle: if your work hasn't been cleaned up and cleared of at least the obvious screw-ups, nobody will take you seriously…and nobody should. If you as a writer can't be bothered to spend some attention on the medium, why in the world, should I, as an editor, publisher or reader, think you care about the message? Guys like Shakespeare and Chaucer can get away with that crap because, hey, standardized spelling was more of an interesting concept than a practice when they cranked out their stuff. It's not that way now, and your stuff will land in the toss pile faster than you can say "dangling participle," no matter how artistic and brilliant you are.
Once upon a time, I put in a couple of semesters at a small but respected literary magazine, and one of the tasks I performed was going through the slush pile. I read through a whole lot of stories, and let me assure you, one of the quickest ways for me to reject a story was any sign that the author didn't go over that story with a fine-toothed comb, fixing and perfecting the text. Basically, I operated on the "three strikes" rule: if I spotted three errors in a story, it was out. If an author can't take the time to make it pretty and reasonably error-free, I won't take the time to read it. I bet most of you understand it works that way with resumes and job applications. It works that way with manuscripts, too. Believe me, I'm not the only one to operate that way, either: that attitude was widespread, at least among the colleagues who could catch that kind of thing. Not all writers are editors, and it shows, but more need to try.
Occasionally, I'll espouse this view to someone, and I'll get a response along the lines of "I'm an artist; excessive focus on grammar and spelling demeans the art." I've got a ready response for that: bullshit. Grammar and spelling are the fundamentals of the literary art, the weak and strong electromagnetic forces of words. They bind those words together to make sentences and paragraphs and pages, and you cannot write—cannot hope to write with any clarity or focus—without at least a basic understanding of them. That doesn't mean you have to be able to accurately diagram a sentence, but if you screw up singular/plural agreement or use a semicolon for a comma, you ought to know that it's wrong and how to fix it, even if you can't fully explain why. If you can't make such repairs, go read The Elements of Style and The Chicago Manual of Style and figure it out.
Of course, if thou art a cynic or have read a lot of blog posts lately, you may argue that such attention is unnecessary, as there seems to be a general degradation in written communications over the last few years. Some people blame texting, some people blame spell checkers, some people blame crappy schools; hell, blame sunspots for all I care. Really, it's not the point (although if you expect to be published professionally, you will be held to a higher standard…generally). The real point is that professionalism starts with you, the writer. Do not expect the acquisitions person, or the slush pile tenders, or even the copy editors and proofreaders, to catch your boo-boos. As a professional writer, you must do it. You must be your own best arbiter for quality and perfection.
Here endeth the rant.