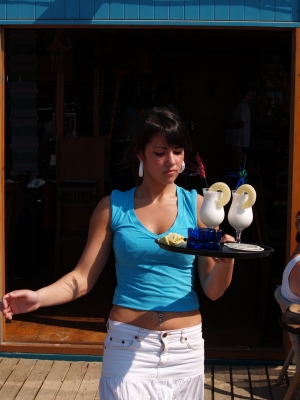 Disclaimer: This will probably resonate more with our younger writers.
If you want to be a writer, what does that really mean for your lifestyle? Your career? You can't graduate from high school or college and then submit your resume to go and write novels. No one is going to pay you to chase your dreams. It's like looking for any other job (just with a difficulty multiplied by a million): the search for the perfect 'position' is going to be long, arduous and, unless your family is the Hiltons, you'll have to find some way to live along the way.
So what to do? There is the obvious route of trying to get a job in the writing industry. A publishing company, for example. The thought here is that one could start off entry-level, work his/her way up, and eventually make the connections and acquire the skills to better help with their own chances of publication. Undoubtedly being involved in the manuscript review, acceptance, and editing process at any level will be beneficial to any writer who seeks success. And instead of shooting a bullet in the dark (i.e., sending querie letters to people who don't know you from Adam), you could have a lot better chance of your material being read by someone important.
But there are down sides. Major ones. While I was at Stanford I seriously considered going in to publishing just for the purposes I laid out above. I talked with some alumnae from my school who worked in the field and received some interesting advice. They told me that if I am surrounded by literary works all day as my job, I will be mentally drained when it's time to come home and work on writing as my passion. I'm sure there are people out there that have navigated this existence just fine and, dare I say, even thrived in it, but it is definitely something to consider. A career in publishing (at least at first) will have you reading tons of awful manuscripts, such to the point that by the time you clock out for the day, the thought of putting pen to paper may make you physically sick.
I was also told that, to be a writer, I need real world experience and that the publishing industry is not 'the real world.' I don't have enough knowledge to agree or disagree with that last part, but his main point certainly struck a chord. If you look at a lot of successful writers, they've been involved in careers totally unrelated. John Grisham was a lawyer, Michael Crichton was a medical doctor, Tolkein was in the war. The saying is, write what you know. Well, if all you know is publishing, that might not transfer to interesting reading material.
So we've ruled out the publishing industry. Now what? There are two ways you can go: full-time job/career unrelated to writing or a part-time/temporary gig while you await your inevitable and humongous fame. Starting a career in which you are also interested can give a lot of valuable and helpful life experience. Being in the 'real world' will help you create believable characters, genuine environments, and credible events. You will be able to relate more with the bulk of your readers: people who live in the 'real world.' If writing doesn't work out (God forbid) you will at least have a career that you enjoy. And that, my friends, can also be the downside.
Getting trapped. Let's face it. If you want to have a successful career, 9-5 doesn't exist anymore. It's more like 8-6, plus some long nights. This can lead to one fundamental problem: no time to write. Being in the publishing industry might drain your brain, but any time-consuming job can just plain drain your energy. The alternative is that part-time option. I call it the 'Hollywood' plan. They say if you go to a restaurant in Hollywood and ask the waiter/waitress there what's the name of the screenplay they're writing, nine times out of ten they will have an answer for you. It's a hard road to travel. It has the biggest risk and, arguably, the biggest gains. You have time to write and the real world can't get much realer than dealing with past-due rent and ornery customers. And if you find yourself at a crossroad where it comes to sacrificing either performance at work or writing, you can make the passion-choice without messing up your career, because writing IS your career.
The downside is easy and almost needs no mentioning. We hear about JK Rowling being homeless and Stephen King mopping floors and look at them now! But we don't hear about all of the people who spend years/decades of their lives chasing a dream just to one day find themselves middle-aged with no financial stability. One of those Stanford alums told me his brother moved to Hollywood to pursue screenwriting and is now 50, never been married, and in debt. It's a huge risk and although the risky route can sometimes be the most appealing, we have to remember that, in a sense, what you're risking is your life.
I'm not going to tell you my personal choice. That would imply that I am suggesting a path and that's not my role. The point is to consider all of these factors and do what you think is best for you, your life, and your happiness.