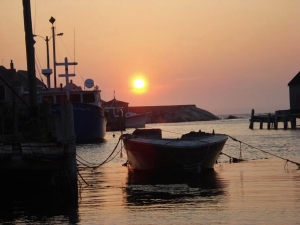 Several years ago I drove across America to make a new home in Nova Scotia. I'd left behind a marriage of twenty years, a son in university and some wonderful friends to make a new life as an artist on the east coast: I didn't realize it but I was really travelling in search of love.
While my mind was prepared for the unfettered and uncompromising—though at times lonely—life of an artist, my soul was seeking something far more elusive. I'd picked the Maritimes as a home, based solely on what I'd heard of their simple genuine nature, their celebration of art and a vision I'd had of living there; I didn't know a soul.
I made my way across the northern states and Canada, over mountains and dusty plains, revisiting old haunts in North Dakota, Kentucky, Ohio; Ontario and Quebec. As I got closer to the east, a strange thing happened…
First, let me tell you that my roots are in the east. I grew up in the Eastern Townships of Quebec. Where the wind is like a fist. My favorite season is autumn. It's a time of drama. When Nature bursts with the brilliance of a diva on stage. Wind scatters flaming colors across the road. Leaves soar like flocks of exotic birds, vaulting to a chaotic chorus. They cover the earth in a mantle of russet warm tones that smell of home.
I crested the mountain range into Wisconsin and was overcome with tears of awestruck joy. A welcoming view of breathtaking beauty opened before me. As I gazed over the vast carpet of rolling hills, quilted in the warm and brilliant colours of autumn, I knew I was home.
I ended my sojourn in the picturesque and welcoming town of Lunenburg, Nova Scotia, a UNESCO heritage site, known for its ship-building and its fine dining, art and culture. I settled there and very quickly made some good friends.
But it was on my solo journeys through the South Shore area of Nova Scotia where I fell in love.
Yes, I fell in love.
I fell in love with the autumn all over again.  My walks took me along paths and byways, through saltwater marsh and scrub woodland, to small quaint fishing villages, and art havens: Mahone Bay, Blue Rocks, Lunenburg, Bridgewater and Kingsburg, to name just a few.
The autumns here smell of "home", of hot chocolate by the fire and a warm cat purring on your lap, of brisk winds howling some arcane whistle through the crack in the window. As I gaze out over the golden marsh, an earthy perfume enfolds me in a heady embrace and I breathe it in. Inhaling deeply, I distinguish a chorus of autumn scents from the heavy musk of decaying vegetation to the sharpness of the dank earth itself. Fall in the Maritimes is a season that celebrates the power and beauty of Nature. Both forceful with her dramatic winds and beautiful in her proud display of exotic seeds and colours, Nature celebrates the ever-changing nature of life, its recursive cycles from one form to another, all bound together in celebration.
I fell in love with the winter. On my walks and drives west to Wolfville or south to Liverpool and north toward Chester, I encountered the crisp harshness of a true winter, defined by intense snow, wind, and ice. What bracing cold! What invigorating wind! To smell the cold snow and hear it crunch beneath my boots sent me reeling back to my childhood years.  Snowball fights. Tobogganing. Snowshoeing. Sliding on the ice: Boom! Oops… a bit of soreness there…
The ice forms great crenulated chunks over the rocks along the sea shore near Bridgewater and Kingsburg. The tide breaks them up into surreal sculptures and clustered ice "pods". As the light wanes on the shore of Blue Rocks, the sea ice glows with an eerie blue light, as if lit from below.
The weather shifts yet again and the morning calls up a mist that drapes its soft light over the landscape like a comfortable blanket. It paints the old craggy barns and gnarled bare trees in diaphanous near-monochromatic shades. The fog evokes reflection and the artist in me celebrates its call.
Lunenburg's heritage houses, beautifully maintained with care, reflect the new snow that has fallen the night before. They beam like happy children under the crisp blue sky, as if they knew they were beautiful.
I have no special "other" in my life, no partner, companion, or soul-mate to hug or kiss me good morning.
Yet, I choose to stay "in love".
…Because, to be in love is to live life to the fullest. And as a writer, this is where I choose to be. Before you can write, you must live; before you truly live, you must love.