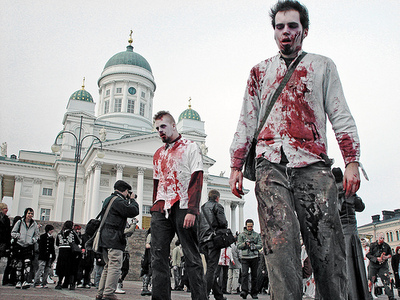 There's a scene in Max Brooks' The Zombie Survival Guide that has stuck with me for a long time, and as I sit down to write my latest screed, it's that scene I want to talk about. Originally, I was going to explore the difficulties of writing comedy, using A Confederacy of Dunces as an example, but the fact that I absolutely despise Ignatius J. Reilly as a character kind of shot down that idea. John Kennedy Toole wrote a great novel around a guy who wasn't worth the ink or paper to describe, which is still something of an achievement.
Anyway, let me get back to Mr. Brooks. Max, the son of Mel, knows a little something about comedy (besides whatever he inherited from his dad, he wrote for SNL for a while: take that as you will), and it shows throughout most of The Zombie Survival Guide. Wisely, he plays the book absolutely straight, using the tried-and-true survival guide format to whip up a book explaining how you, too, can survive the zombie apocalypse that may just be around the corner. His top ten tips on surviving a zombie attack are what drew me to the book in the first place (tip #3: Use your head; cut off theirs).
And yet, toward the end of the whole thing, is a quiet little scene that isn't funny in the slightest. It's almost a cliché to have funny bits in horror movies and stories as a way of alleviating tension, but what you don't see nearly as often are bits of horror in funny stories. That kind of tonal shift is hard to do right, but it's powerful when successful, because it's almost a feedback loop: the reader or viewer goes from laughing to experiencing horror, which is disconcerting by itself because it forces a reevaluation of the story, and may instinctively go back to laughter as a nervous reaction. Of course, when you find yourself laughing at something that isn't funny, that starts a whole new set of reactions depending on the situation. Potent stuff.
The scene in question isn't very long, barely more than a few terse paragraphs. If you want to read the book with fresh eyes, this is where you should skip ahead. In the book, Brooks includes a "historical" section, where he discusses outbreaks of the zombie virus (which he calls Solanum), how they spread and what was done, if anything, to stop them. One of the outbreaks took place in the late 1600s on board a slave ship, bound for Brazil. Brooks, showing the same control of horror as he does of comedy, lays out the reportage and allows the reader to connect the pieces mentally. He states only the bare minimum necessary to set the scene: no living crew found aboard the ship, adrift for years; no lifeboats; the captain dead by suicide in his quarters; and a line of zombies in the hold, chained together. With a few lines of emotionless speculation on how the chained came to be undead, Brooks sets the hook and closes the deal.
It's this tonal control, this example of excellent pacing and precise textual choices, which elevates the book, in my opinion, to something a little more than a fun one-time read. I enjoy zombie fiction, but I don't collect it. I do, however, own a copy of The Zombie Survival Guide, and while it may be hyperbole to credit my choice to buy it on that one scene described above, I think it's fair to say it was a factor. With those few paragraphs, Brooks demonstrated to my satisfaction that he was working on a level a step or two up from being a literate clown, and had something more on his mind. This control of his material wasn't a one-time thing, either; his follow-up book, World War Z, exhibits the same control over a wider swath of material and range. World War Z is a better book—among other reasons, it actually has something of a story, instead of a book-length parodic riff on a particular style—but I don't recall anything in that book having the economy and impact of those short paragraphs.
Having the ability to control your tone and tempo to that level, even if only for a handful of pages, is an invaluable skill, regardless of the material you choose to write. Of course, if you have zombies, it's all the better. After all, everything's better with zombies.