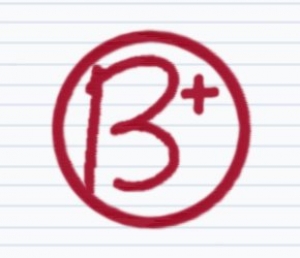 It isn't that difficult to improve. If you pick up a pool stick for the first time, you'll probably suck, but eventually you'll be able to get some balls in--on purpose, too. The first time on the ski slopes, you'll bust your ass, but sooner or later you'll make it to the bottom. Pick up a basketball....well, you get the idea, right?
Creative writing is no different. It has basic elements that most people can learn and become proficient at if they put their mind to it. And, honestly, it might not even require that much effort/time/devotion at first. You can write here or there, have some people read your work, develop at your own pace, realize your first stuff sucked, and gradually become better. Now, I'm not saying this as an example of someone who isn't serious, just that it might not take that much time to go from bad to good. This should be hope for people just starting out, who think/know they can't write worth a damn.
In fact, I religiously listen to a podcast called Writing Excuses (if you have never heard of it before...go, now!) and I recently went into the archives and found one about whether or not creativity can be taught. Of course, they said that it can (wouldn't do much for a podcast aimed at inspiring authors to say...yeah, either you got it or you don't...sorry), and gave examples and advice for being more creative. It included things like asking people for random ideas, looking at something and changing one thing about it, taking your favorite tales and changing an important detail, etc, etc. In the same light, writing mechanics might not be everyone's forte, but it can certainly be built and improved upon. Eventually, almost anyone should be able to come up with an at least somewhat interesting story, with competent writing, and relatable characters. Even something people would enjoy reading.
Well, that's all and dandy, but what about the next level (or, rather, the next 100 levels) up? The guy who picks up the basketball for the first time could become the next Michael Jordan...or he could never get past his neighborhood league. Doesn't mean he's not good...but there are so many athletes out there, he'd have to be excellent to justify any special attention. Writing, like anything else, is the same.
I don't think attaining publishable writing skills is impossible, even for those who are not naturally adept to the craft. What I do think, however, is that it's hard. Damn hard. Similar to trying to lose that last bit of weight, improving your writing from great to awe-inspiring is more difficult than going from baseline to great. You can create great characters and put sentences together smoothly, but can you assemble a plot just right? Can you tell the difference between a block of text that will be considered beautiful word play and imagery versus one seen as fluff and over-description? Can you self-edit?
The tough thing is, every writer will have certain elements at which they will become naturally good. Even if they suck at first, as they develop the craft, dialogue and creating suspense may start to come easily. But so many different elements are needed to make a story work. I remember some time ago I was working with an editor, fixed a bunch of the mechanical gripes she had, and in the end I said "I've fixed all those things you said were wrong" and she said, "Yes, you've gotten better, and I see that...but the story just isn't captivating." And I thought...shit, where's the manual for that?
So, what am I saying? At some point, if you're serious about writing and being published, you have to commit to becoming godly. Having a vigorous writing schedule, reading as much as you can, analyzing what you read, editing your own work, being critical of your own work and constantly asking what can be better, and exposing others to your work is key.
You can arguably become a good storyteller without devoting such a level of commitment to your writing, and that's fine. Because not everyone wants to be published. But at some point you might decide that you have talent and want to make this a career (or, at least, try). Once you hit that point, you have to go forward with that focus. You have to strive for perfection, and that means weeding out all the little things you aren't good at, becoming a student of the craft, and learning to edit yourself. It also means spending a lot of time.
It's something not all of us have: time. Getting published takes a lot of it. That's a personal struggle, and I'm not telling you it's hopeless if you have two jobs and three kids. All I'm saying is you need to realize that what you did to get to the skill level you're at now might not be enough to get you where you want to be. It only gets harder to improve. But improve you must.
Thoughts? Perspectives? I'd love to hear them.