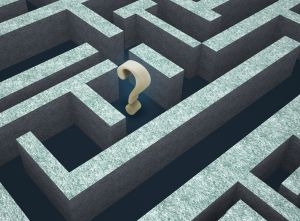 Have you ever been through a hedge maze? It's one of those overgrown British-type things you see in Harry Potter movies, although the American brands don't usually shift and reveal evil sorcerers. When I'm writing I sometimes feel like I'm groping blindly through one of those bushy labyrinths (no dirty jokes here, please, this is a serious writing column.) (Okay, maybe it's not, but still…no dirty jokes.)
Back to my bushy labyrinth. I feel as if I'm stalking some point of plot or character development, and I hit a dead end, a brick wall, a rake to the face. I can't move forward, no matter what I try. What's worse, I sometimes get to this point and realize that I've just committed hours and pages to a plot pursuit that is actually wrong for my story. Oh, the sad, sad wail of a writer having to hit that backspace and delete key. But if it's wrong, it's got to go.
When I find myself against that brick wall, or after I've backspaced and deleted, I have to figure out why I went so wrong. Of course, nobody gives you a map when you're navigating the twists and turns of an unwritten book. I go back to the source: the characters. When I'm stuck, I close up that file, open a new one, and embrace my ability to talk to people who don't exist. I start doing a character interview.
Interviewing a character like this may seem like a lot of work for nothing. Sometimes I write it down, sometimes I don't. Much of the time, I don't use any of it in the actual novel itself. It's really designed as an exercise in honesty. Here's my process (and your results may vary, as they say in all those prescription medication ads. I can almost guarantee, though, that my process won't have unpleasant side effects like erectile dysfunction or severe diarrhea.) I focus on the character that is driving the action at this point in the story. I close my eyes and picture this character sitting alone in a darkened room, maybe in an easy chair, maybe in a metal folding chair. This entirely depends on how upset I am with the character. The ones who make it tough get the folding chair.
I envision a single white spotlight coming from above, illuminating my character. I approach, and I take a seat opposite. (My chair is always comfortable, because if I'm delusional, at least I should be able to call the shots on the décor.) I proceed to interview the character as I would a real person, but I focus my questions on the plot point at hand. Here's a typical conversation I recently had with Claire, a character from my not-yet-finished novel Out:
Me: So, why did we have to go into the forest anyway?
Claire: (silently crosses her legs and takes a cigarette out of her pocket, lights it, takes a puff without answering.)
Me: Sorry. I didn't mean to sound judgmental. I'm just trying to figure out what you're doing.
Claire: (blowing smoke at me.) Obviously, it's a secret.
Me: Right. But I'm your author. If you don't tell me, I can't write your story.
Claire: (momentarily thrown off a bit) Right. (She shifts in her seat, which is a metal folding chair.) We were going in to meet the people in the resistance.
Me: Now we're getting somewhere! Who are the people in the resistance?
Claire: I can't tell you.
Me: As I said, I'm your author. You have to tell me everything. Especially if you ever want to leave that stupid town in Ohio.
Claire: Hmm. (puffs on the cigarette) Okay.
I'm not going to go into the rest of the conversation because Claire, as you can see, is pretty tough and she could jump off the page and kick my ass. I don't think she'd want me telling you anything before the book's published. But if you'd like to try this interview technique, you're welcome to it.
How do you get your characters to talk? And how well do you listen?