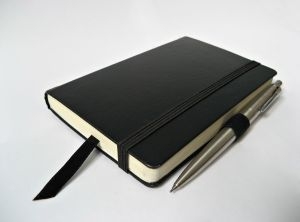 When I was in eighth grade, my Language Arts teacher (in middle school, English is always called Language Arts, as if we were working in pastels or ceramics or something) told us we were going to write a journal. This was 1977. I don't recall, but I imagine that most of my classmates groaned, as my school was not exactly populated by writerly, creative types. My peers in that neighborhood—especially the boys--were always much more interested in helping their dads get the RV ready or for The Colorado River or the desert or helping their older brothers work on the car that was up on blocks in the front yard.
My only nod to masculinity in regard to this project was that I made sure to call it my "journal," refusing to refer to it by the much more girlie moniker of "diary." I'm sure most of the students wrote in the journal for the requisite week or two, turned it in on the due date, and then forgot about it. Not me. I wrote in the journal, almost nightly, from ages 13 to 19. I penned my last entry, really more of a trailing off than an ending, in 1983.
These journals still sit on a ledge in my bedroom closest, now hole-punched and put into six blue binders and labeled by year. One of the most remarkable aspects of this journal is that my entire high school career is documented on paper. I can turn to any day during my early adolescence to young adulthood and see what I was doing that day and, for the most part, how I felt about it. I can read about the day as a ninth grader when the senior girl I had a crush on sent me a carnation in the Christmas flower send and how I walked on clouds for days, I can relive the tension and trouble I had with my jerk of a government teacher whose best joke was how funny it was that the first woman to hold a cabinet post was the Secretary of Labor, and I can relive the night we drove for several hours to get Gus, who turned out to be one of my favorite dogs of my childhood, even though I'm not an animal lover. Of course, these tomes also relate all kinds of family drama, Christmases, Thanksgivings, and such dull, mundane events as trips to the mall and boring homework assignments.
The individual entries will never be confused with great writing, they will be never be published, and they would be without value to anyone else; nevertheless, whenever I pull out those blue notebooks and flip through them every few years or so, it feels to me a bit like admiring cave drawings or perusing The Dead Sea Scrolls.
Journaling has great merit and is a type of writing that I highly recommend. It's not only one valuable method of making a "butt-in-the-chair" writing habit for yourself, but it can serve as a lovely panorama of your life--complete with triumphs, tragedies, laughter, and tears. It can serve as a record of your day-to-day activities or document your deepest doubts and dreams. The approach, length, tone, and entry format is entirely up to you.
Finally, journals can take many forms. Mine, for example, was done on looseleaf notebook paper, as I was a teenaged student at the time and that's what I had access to. Some prefer a fancy bound journal and expensive writing utensils, the type that can be purchased at the bookstore or office supply store. Others open a Word document and just start typing. Still others start a blog (as I did to journal/document the writing of my last young adult novel). You get to choose the right type of journal for you. I have often also written mini-journals to document vacations, trips, and individual adventures in my life: where we went, what I did, what we saw, what I ate, and of course, how I felt about it all. Journaling, in truth, can be one of the cheapest forms of therapy for a writer--almost as good as poetry!
The benefits of journaling are numerous and varied. It can serve as a writer's gym for a quick workout before the "real" work, to move you past a challenging place in your current project, or as an antidote to writer's block, if such a thing existed. If you want it to, a journal can help you keep track of your days and commit your life to paper.