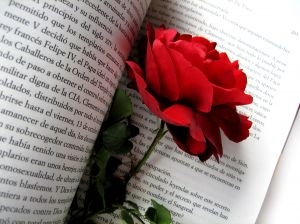 How many times have you read a book, then watched the movie and felt cheated?
I do this so often, I wonder why I bother. I mean, I pick up a novel, become immersed in the rich description and the multi-layered character development, savor the word choice, and furnish the narrative in my head with any and all manner of details. Sometimes, if the writing is exceptional, I feel as if I've actually lived through an experience that I've read.
Then, because of my enthusiasm, I'll see the movie. Inevitably, I'm disappointed. Why? They usually follow the plot and the characters of a successful book. Most of the pertinent information remains the same. So why is it a letdown?
My theory is that we become intimate with a piece of writing in a way that we cannot become intimate with a piece of film. Writing and reading exist as a partnership between two people—the author and the reader. It's a dance with two partners, a lovely tango, whereas going to a movie is more like doing the chicken dance with 400 of your closest friends.
I enjoy movies, so it's not like I'm against film. And if one of my books were turned into a movie, I'd be thrilled, as would most writers. (One notable exception: the late J.D. Salinger, who, after one foray into film adaptation, refused to participate again. Catcher in the Rye has still never been made into a movie, much to the chagrin of high school juniors everywhere who would like to skip reading it in lieu of watching Ashton Kutcher wear a hunting hat and pretend to be seventeen.)
The book's the thing. It is a privileged, private glimpse into the psyche of another human being, usually one whom we would like to know better. In a world of quick fixes and fast food, the time it takes to read a book make it a unique experience. You cannot tweet a book. (Well, you can, actually, but it's the literary equivalent of eating a Twinkie versus a gourmet meal.) To truly experience a writer's message, a reader must plunge down the river, take the rapids as they come, pause to rest when needed, and get back in the boat when the opportunity presents itself. If a book is really engaging, I've ignored more pressing tasks in order to stay immersed in the world of the story. (My poor cat…when I started Game of Thrones she didn't get fed properly for weeks.) And when I was a teenager, I read The Chronicles of Narnia so many times the pages literally started to fall out of the binding. I sat in my mother's walk-in closet for hours waiting for Aslan to come and get me. I mostly got high on mothball fumes, but it was delicious pretending that I might be chosen to go through the wardrobe.
As a writer, I want to create something that invites a reader to enter a special world, to participate in a relationship with me that is at once intimate and removed. We can't know each other, really, but we do connect mentally through the story, through the characters, through the descriptions, through the dialogue. There are a few authors I feel I know very well just because I've read their books; when I see them at book signings, I feel like I'm shaking hands with old friends, and I've rarely been disappointed. Writers bare their souls in ways that few other people do.
Have you had the experience of immersing yourself in the world of a book? Or has a reader ever treated you as an old, familiar friend?