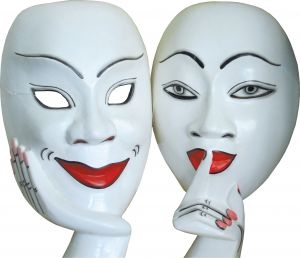 The ghostwriter is the behind the scenes writer- the one who does the majority of the work, but doesn't get the credit or the byline.  And because he doesn't get the credit or the byline, he is amply paid.
The ghostwriter doesn't just write novels:  she writes blog posts, website content, online articles, newsletters, informational brochures and booklets, e-books, autobiographies, memoirs, self-help books, and other non-fiction genres. 
The ghostwriter is business-savvy, professional, a willing collaborator, and is indispensable to  clients.
Ghostwriting isn't for everyone.  If you can't stomach the thought of someone else's name attached to your work, it's not for you.  If you don't enjoy the idea of co-authorship, of collaborating closely with another person, it's not for you.  If you are not a versatile writer, and cannot mimic another person's voice in your prose, ghostwriting is not for you.
Did you know that up to 50% of books published today are worked on by at least one ghostwriter?  There IS a market for ghostwriting.
 How to break into the ghostwriting biz?
1)  Gather writing samples.  If you have published work, great; if not, polish up your best work. 
2)  Consider picking a niche.  What do you want to specialize in?  Ghostwriting fiction?  Speeches?  Business writing?  Market yourself as a specialist instead of a jack-of-all-trades.
3)  Market yourself and search for jobs.  Start small.  Revamp a website, help a business write some marketing brochures, or ghostwrite some pieces for a business blog.  Look for jobs on popular sites like Guru.com, Elance.com, or Craigslist. 
4)  Looking to ghostwrite books?  Let literary agents and editors know about your services.  In fact, learning about the publishing process can only help your chances of landing a ghostwriting job.  A literary agent can help connect you with the perfect client. 
5)  Consider applying to a company that lends out ghostwriting services.  They will act as your "middleman."  Though they will take a cut of your earnings, it takes a lot of the pressure off of constant networking and marketing.  These companies often advertise on writing websites.
Ghostwriters can get paid very well: up to $100,000 for a book.  Smaller projects make for a nice, consistent stream of income.  Of course, ghostwriting can take away from your personal projects.  On the other hand, it can help you grow as a writer, and if your ghostwritten book happens to get published, you have credible experience to point to when trying to get your OWN novel published.
 Next week:  Writers and Networking.
 Further reading:
Example of a ghostwriter's website:  http://www.jennaglatzer.com
Find an agent:  www.getaliteraryagent.com  
Example of a ghostwriting services company:  http://www.advancedwriters.com/custom-ghostwriting/