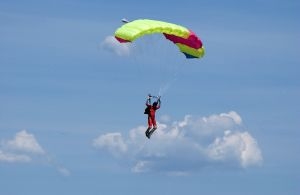 A college teacher of mine once drew three columns across the chalkboard (this was in the days when dry erase whiteboards were still science fiction) and labeled the columns with the words HAVE, DO, and BE. He told us this was a paradigm for personal achievement. He also said it was a continuum, meaning you could start at either end or even in the middle, if you wanted.
The Have, Do, Be paradigm is simple: If we want to BE a certain thing (a skydiver, say), then we should have what we need to have to BE that thing (parachute, plane, pilot, lessons, etc.) and do what we need to do to BE that thing (schedule a flight, drive to the airport, etc.). We may never hurl ourselves out of an airplane as we flail helplessly and pray to a God who has abandoned us as we rocket to our certain death and the farmland of Kansas rapidly approaches us (okay, so skydiving isn't my thing--I should have picked a different example), but following this process will dramatically increase our chances of doing just that. I might also recommend a fat life insurance policy for your loved ones.
Similarly, if we wanted to HAVE a certain thing (a yacht, an iPad, the latest Justin Bieber CD), we should do what we needed to do to HAVE that thing and be what we needed to be to HAVE that thing and the chances of us HAVING that thing would improve. If we wanted to DO something, we might start in the middle and make our way outwards. If we complete all the steps in the process, we will dramatically increase our chances of achieving our dreams.
Here is the basic template:
• HAVE: What materials, supplies, and experiences do I need to HAVE to reach my goals? • DO: What do I need to DO to reach my goals? • BE: What do I need to BE to reach my goals?
So how does this process work for writers? If your goal is to HAVE a novel published, then you need to DO what it takes (write the book, get feedback, revise, query agents, attend conferences, etc.) and BE what you need to be (a member of Scribophile, in a writing group, attuned to latest industry news and trends, etc.) and the chances of your tome appearing on the shelves at Barnes and Nobles increases. (Borders, not so much.)
Self-doubt, confusion, and the infinite distractions of the modern world can keep us spinning futilely in the same old routines and prevent us from taking the steps that will result in the achievement of our desired goals. When that happens, it's time to sit down and think about the HAVE/DO/BE continuum.
After that, the focus becomes much more clear: Have. Do. Be.
Make a list. Develop a plan. Realize a dream.