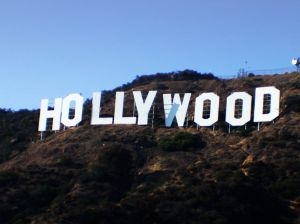 If you've been reading my ongoing self-publishing adventure over the past couple of columns, you know that my agent and I have decided to self publish my new novel Out. What I haven't mentioned yet is that while traditional publishers are shying away from it, film and television producers are finding it appealing, and that has thrown a new obstacle into the adventure.
It's every writer's dream: have his or her work adapted for the big screen or the tube. We all know what that does. It introduces work to a larger audience, gains readers for books that might be overlooked, and can potentially make money for the writer since film and television in general produce a lot more revenue than publishing. Very few writers would turn down a film or TV deal, with the exception of J.D. Salinger, who would never allow his masterpiece Catcher in the Rye to be turned into a movie. (He had a really bad experience with a previous film adaptation of another work, and vowed never to mix with the silver screen crowd again.) He held true to that until his death last year. Who knows if his heirs will give in now that he's gone, but it was clear that J.D. thought all the movie people were "prostitutes out in Hollywood." (If you haven't read the book, that's a quote from Holden Caulfield. I am not calling all Hollywood types prostitutes…so don't be offended if you are one, know one, or love one.)
Back to my story. It turns out that a film producer read my book, liked it, and thought it would make a timely and marketable movie or TV property. She in turn took it to an agency that does what's called "packaging" : this means that they take the book, put together a "package" which often includes a screenwriter, actors, or directors, and tries to sell it to production companies looking for properties. In a phone conference, the producer told me about all the people interested in my book, and some of them were what they call "A-listers." That was, too, pretty cool.
I tried not to get too excited about this, because from previous experience I know that TV/Movie deals require many, many steps to come to fruition. It's sort of like that Mars lander – there are 39 things that could wrong, and if one goes wrong, the whole thing is shot. But the Curiosity rover landed, right? So, I guess it's possible I could get a movie deal or a TV contract, but I'm not quitting my teaching job.
The downside of this is that the film producer who took the property to a packaging company is not thrilled aobut the self publishing idea. She feels that it will weaken the potential to sell the book, and she also feels that if we do sell the book as a package, we'll get a lucrative traditional publishing deal and all the marketing strength that goes with that. So now my agent and I are faced with a dilemma: we've been going under the assumption that we're two against the world, birthing this book despite the best efforts of the system to screw it up. We've been laying groundwork, seeding the social networks, talking it up. And now we have to sort of click into a holding pattern.
For how long? If we do that, if we wait to see the outcome of pitching Out as a movie or TV property, how long do we wait? As she pointed out, LGBT issues aren't going away any time soon, so the book will still be timely. I wanted to get it out before the election, but now that seems a bit unlikely if we have to give the packagers time to work their magic.
Nothing is ever simple, is it? What would you do?