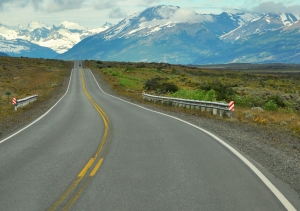 Writing fiction can be like setting out on a cross-country road trip: you know where you're starting and around where you'll end up, but not what you'll encounter in-between. You have an idea: visit the Grand Canyon here, take a hike in Yellowstone there, but if you decide halfway through that you really want to see Mt. Rushmore, what's stopping you? And for the more adventurous, the destination could be as variable as the path. Just you, your friends, and the open road. For this analogy, however, we're not going to be so ambitious.
Let's take Washington, D.C. to San Francisco, CA for example. Simple start and end locations. You have all of your things packed in your car, a tank full of gas, money, food, and a couple friends to make the three thousand miles bearable. There are some landmarks you have marked on the map that you would like to see, but nothing's set in stone. You just want to make this the best trip of your life.
However, along the way unexpected things happen. Around Chicago you realize that at least one of your road-buddies is going to be a pain in the ass and it's just too far from home to leave him on the side of the road. You thought driving all day with the countryside zipping past you would be exciting, but you're finding it hard to find the motivation to get out of your motel room bed and make that drive. Sure, you're stopping at some really cool spots here and there, but the roads in between are stale and repetitive. The air condition on your car doesn't work, and you realize that you really hate driving stick. Why the hell didn't you rent a car with auto transmission? You've gotten turned around a few times and have taken some detours you thought would add to the experience, but rather end up threatening to make the rest of the trip one big suckfest.
Oh, and did I mention the weather sucks? Yeah, you just happened to pick the worst time of year for cross-country trips...
You've made it to Chicago, you're first planned landmark, so there is some relief. You've gone about 800 miles, a little more than a quarter the distance. You don't like the characters you've chosen to be apart of your adventure, the route you've taken on the roadmap is all wrong, jumbled, and uninspiring, and San Francisco just doesn't excite you anymore. You have the money and the resources to continue on in hope that things get better down the line, but you're seriously reconsidering whether the whole trip is worth it.
And it just so happens that one of your closest cousins lives in Chicago and owns a shipping company. He can get you and your friends on a plane back to D.C. and ship your car back, all for no charge. Then you can start planning the trip from square one. Pick a new destination, new friends, a different car for a different driving style, and maybe even a better time of the year. The only thing you would have lost is time.
Well, that's one way to think about it. One could say you're also losing valuable experience before you even gain it. You only made it one third of the way across the country. Granted, you're probably better prepared to make that part of the trip awesome the next time around, but you're still an amateur when it comes to dealing with the fatigue, lack of resources, surprises, and vastly different weather patterns you'll experience once you hit the half-way mark and beyond. And the end is the scariest part. You want to you and your friends to be excited when you finally reach your new apartment on the other side of the country, not worn-out and frustrated from driving around the city for hours on end the last day because you didn't know how to navigate. Starting over after the first few chapters of your journey won't make you any more prepared for those latter parts the next time around. As scary as it sounds, you can only do that by seeing it through. From start to finish. Otherwise, you'll just be doing trips from D.C. to Chicago, or Atlanta, or Memphis, over and over again, wondering why you can't get it right.
So you suck it and finish the trip. Learn how to make the best out of the personalities of the people you've brought along for the ride, explore what advantages driving stick has to making those long roads that much more interesting, and revisit the map and focus on getting to San Francisco in the best way you think you can, regardless of the shit-storm you rode in on to Chicago. In the end you might not have a trip that you thought was particularly good (for example, the long detour to Mt. Rushmore which was cut short by a roadblock due to a rockslide and caused countless hours of backtracking that added nothing to your trip other than frustration), but you're confident that the next one will be that much better. And who knows, maybe in a few weeks you'll look back at some of the pictures and say, hey, this trip wasn't that bad afterall! With a little bit of cutting here and rearranging there, you just might have something interesting enough to make that ass-kicking Facebook album you had in mind when you started this whole thing! And isn't that what makes the world go round?
So what do you say?