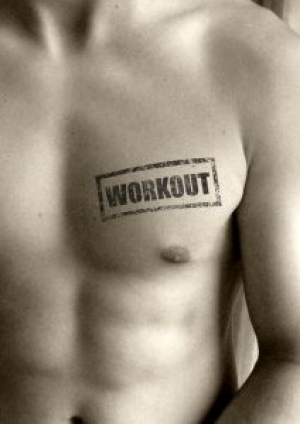 A few weeks ago I introduced a little game called The Scrib Gym: I post a prompt, you write and post a response. The contributions to last month's gym were incredibly well-written and entertaining. More inspiring, though, were the comments by writers who said that working out in The Scrib Gym allowed them to write after having not put pen to paper (or fingertip to keyboard) in a long while or those who said the prompt gave them ideas that they planned to elaborate on in longer pieces. This, my friends, is what The Gym is all about.
I say we do it again.
This month's prompt is: Keepsakes and Heirlooms
Write about a ruby ring that has been passed down for generations, a diary that has fallen into the wrong hands, a dad who gives a fishing pole to his daughter that he got from his own father, or a letter from a boyfriend who died in a war overseas. You get the idea.
Don't forget character and conflict.
*** Here's my contribution:
When the mourners had all gone home and the left over food was properly Saran-wrapped and shoved in the fridge, Sarah sat on the sofa surveying her mother's living room. The possessions, most of which she had grown up with, would be split—evenly, for the most part—between she and her two siblings. As the oldest, she had been declared executor of the estate, but she knew that Doug would horn in and make certain demands. He would want the car, for example, and all of their father's tools that would now need a new home. That was fine with her; she had no use for old hammers, saws, or screwdrivers. Teresa would want the jewelry, or anything she could sell to support her ex-con boyfriend's drug habit.
So what do I want? She thought to herself.
"I want my mother back," she said aloud, although there was no one there to hear.
She sighed, suspecting that she'd continue to be the practical one, taking the silverware and the china cabinet, insuring that her mother's legacy lived on. But then another thought took shape. Rising, she went to the roll top desk, opened it, and removed her mother's two bank books—one checking, one savings. In her mother's final days, she had been given power of attorney over her mother's assets. She placed the bank books in her purse, grabbed her keys, and headed for the car.
Mother will understand, Sarah thought as she turned over the engine and plugged the train station's address into her GPS.
After all, she thought, heirlooms come in all shapes and sizes.
*** Random Musings:
According to The Paris Review, Michael Seidenberg has come up with a unique way to sell books. When his rent quadrupled on the retail space for his bookstore in Brooklyn, he set up shop in a very unlikely place: his own apartment. This "secret bookstore" in the Upper East Side is called Brazenhead Books, and the walls are lined with shelves filled with first editions and knick knacks. If you have trouble finding him, the articles says, just look him up. He's in the phone book!
I am fascinated by this story of a man who has a bookstore in his home. I have many books in my house tucked in this closet or that cabinet, but I have no bookshelves. What a dream it would be for me to not have to venture to the local independent bookseller, but instead to walk across my home to grab a book from the many shelves. And if I could invite others in to peruse the books, talk about them, and even make a little money from it, that would be heaven.
Comedian Janane Garafolo used to do a joke about the prevalence of Howard Schultz's coffee houses. "They're building another Starbucks," she would deadpan. "In my living room."
Seidenberg, lucky guy that he is, seems to have taken that joke quite literally.
Time to play! Enjoy!