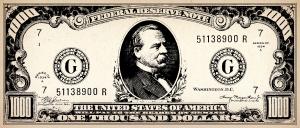 I started a short story yesterday which I don't expect too many people to want to read. The story takes place in a time of American slavery and the main character is, you guessed it, a slave. The story, in my opinion (I might add that, in writing, the author's opinion can be the most or least important factor depending on how you want to look at it), is more about the character and his special ability than slavery. But I imagine, regardless, I would have a hard time getting it published. I mean, if you ran a literary magazine, would you risk printing a story where whipping black people is the norm?
But the story still needs to be told. Because that's how stories are. They don't ask to be born, just like children. They just are, with a little pushing from you. So I'm going to spend my time writing this story. I may or may not try to find a magazine who will accept it for publication, but either way, I will be writing the story for me. I have an interesting idea and I want to see how it would play out in an interesting time period. The characters have already begun to speak to me. So, really, do I have a choice? If I'm to be true to my writing, true to me, do I have a choice?
Well, duh, shit yeah I have a choice! And you do, too. That's why I am writing this. Unfortunately, the world isn't a nurturing place for doing things for yourself, at least not in the beginning stages. You won't get a promotion at your job for saying 'screw the company's wants, I'm going to work how I feel!' No one's going to pay you for doing something just for you. At least, not at first.
That's the joy and the curse of art. Unlike in the corporate world, being a conforming artist won't necessarily bring you a paycheck. In a way, it would be great if there were companies I could apply to, get employed, and write whatever kinds of stories I'm told to write and get a steady income for it. Then, at least, my full-time job could be directly related to my art. But that's not how things are at all with writing (except for television, I guess) and it's probably for the better, in the long run. Instead, you're most likely writing while surviving on some other means/job. It might even be considered a hobby. But no one's telling you how to do it, giving you deadlines, or threatening to take away your ability to practice it if you mess up. So why not take advantage of that freedom?
Across all types of art, the best is usually found amongst those who perform/create/imagine with the intention of satisfying themselves, and no one else. That others might enjoy their labor is a hope, not a necessity. Do you think the Mona Lisa was drawn while da Vinci pondered on what would establish him as a legend? Did Beethoven poll his audiences on what they liked best and then go home and compose with those notes at hand? For a more modern example, rapper Lupe Fiasco put out two superb albums where his motivation was not sales, but rather expressing himself. The record label he's under, Atlantic, pushed for his latest album to be more mainstream. It will probably be his best selling production, but its reviews are nowhere near as positive. The artist himself openly expresses his disappointment in interviews.
Another important factor in not writing according to trends/what's popular? Times change. Sure, teenage vampire love is big right now (or is that even still in style?) and you could try and write a book about that, but by the time you finish the next big thing could be Kung Fu Elephants. And not only will no one want your vampire story (which just happens to be shitty because you felt shitty doing it), you wasted a year or so creating something best used as a fire-starter. I won't say I told you so.
There is a part of this, however, that we shouldn't get confused over. Aiming to please your audience and writing for financial/popular success are two different things. For example, writing a children's book in which children gain a moral lesson and also develop a love for reading is different than writing a children's book because you think it will sell like hotcakes. If you passion is invoking certain emotions/thoughts/actions from your readers through your writing, then make that your focus, not what will appeal to the largest possible number. Because, as I've said, times change. Passion leaves a stamp which lasts forever. With my slavery story, for example, one of my goals will definitely be to connect with my audience, but I'm not shooting for having a particularly large audience. If that happens as a result, then yay! If not, no biggie.
Write what you love, whatever that may be. I assure you it will be tons better than anything you write because you think you should rather than feel you should. Yes, when we write to get published there are the elements of appealing, engaging, connecting. But those should be achieved through your personal purpose for writing, not over it. Write the story that means something to you and, I promise, it'll mean something to others as well.