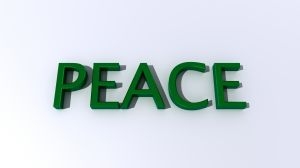 I'm always at war with the words. Sometimes they fight me until I'm almost out of ammunition, out of commas and periods and question marks and even semicolons. I give them life, make them real, yet still they battle me. I want the best for them, these words, but they argue too often. They speak softly, their voices heard by only my ears. They curse, they rant, they confuse, they mock. They question everything. Why am I here? I'm a But, shouldn't I be over there, after the comma? Sometimes they are legion, whole sentences, paragraphs and even pages whispering to me. You've got it all wrong, the words will tell me. Makes us better, they plead. I do my best to argue back. I tell them I'm a good writer and I know how to make them work. They plant seeds of doubt. Are you sure you're a good writer? they question. Who told you this? Your mother? Your friends? They're just being nice. I assure them that many people whom I'm not related to or currently sleeping with have told me that my writing is good. I tell the words to trust me. Just trust me. Then I hear their incessant laughter.
Sometimes, though, they are friendly. Sometimes, they don't talk back at all; they simply sit on the page and get comfortable in their place. When they are silent, I know they are pleased. I know I've chosen the right words and put them in the right order. I know I've arranged them in the proper way, and the story those few thousand words helped me create pleases them. Sure, a large, fancy word might grumble softly and whisper, Hey, what about me? Expeditiously has spoken up more than once, as has Cornucopia and Mellifluous. I tell them to relax. Their time will come. Maybe next time, maybe never, but I assure them I'm thrilled they exist. I comfort all of them, from the shortest to the longest, from the prettiest to the most unpleasant. They are my words, and I need them all. They fight my battles for me. They garner laughs and shock. I tell them I'd be nothing without them. That appeases them, briefly. They all want to be set forth into battle, armed with the best punctuation, in the right formations, an attack plan at the ready. But I am not always a good general.
They are often displeased with my faulty brain. I have reference books by my side, a dictionary, a thesaurus, various books on style and craft. They wonder why I need such thick books. Why don't you remember all us? they wonder. But it's not so easy, I counter. A mother need only remember a couple of names; a writer must remember thousands of words, with new ones arriving all the time. Some sound silly and I worry that they aren't pleased with their names. Blog has a particular dislike of the its name. Splurge isn't thrilled with its name, either. Gutter is forever sullen. Other words couldn't be more pleased. Rainbow sometimes gets a bit too cocky, knowing its name practically sings, and when this happens, Harmony joins in. Not all words need be pleasing to the ear, I remind them. But it's important each and every one them exists, some for prettiest of stories, some for the ugliest.
Still, I think they like my company. They know I will come to them often, needing their help. The words know I will always come back to them; they know I will never forget about them; they know the love I have for them. We bicker and we battle. We go to war together. I do my best to appease the renegades. I want them all on my side, because without each and every one of them, I cannot succeed. Malignant is always tough to convince I know what's best. Wonderful never doubts me. Maybe someday they will trust me fully. Maybe someday they will fall in line without question. Until then, I will stay at war with a few of them. But we are linked, the writer and those wonderful words. One battle after the next. I need them to know I am not the enemy. I need them to know we have a common foe: Story. The words must stand by my side, until one Story is conquered, then the next, and the next. The battle against Story is never-ending. Once one is handled, the next comes quickly.
I tell the words we make a great team, and as the days pass by, they believe me more and more. I want them all to believe in me. From Aardvark to Zygote. Trust me, Words, I want nothing but the best for you. Always.