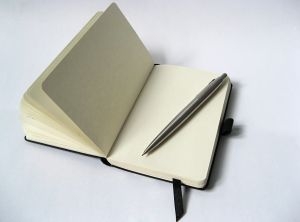 I keep a writing notebook.  Occasionally.  When I remember to carry one with me.  Actually, I have about five writing notebooks. I know the location of at least two; the other three are MIA at the moment, but will turn up eventually.  When they do turn up, it will be a treat looking through them, seeing visual representation of my occasional moments of recorded brilliance.  (More than likely, the lost notebooks will contain scribbles of dialogue that will make absolutely no sense to me, and I will spend the day puzzled at what my past self was thinking when she wrote them down.  Example: current writing notebook has the following line in quotations:  "She had never slipped on a banana peel."  What was going on in that pee-brain of mine?)
I'm not terribly organized.
My writing notebooks are all steno pads I bought at the local drugstore.  I end up using half of the pages in the pads for notes to my son's teacher, as a place to write down phone messages, and as a blank canvas for drawing my signature co-centric circles and squiggly lines.  The rest of the pages have random quotes, overheard conversations, song titles, names of books I've been meaning to read, and possibly some more squiggly lines. 
The most popular writing notebook is the Moleskine Notebook, the smaller, pricy writing notebook popularized by Ernest Hemingway.  Unfortunately, the Moleskine Notebook today is often considered a sign of pretentiousness, an accessory for the wannabe writer posing as an intellectual.  However, I suppose many buy them because they are small and durable and because they remind them of a simpler time, a time when we used pens and paper to retain information instead of digital planners, cell phones, or netbooks.  
I do think some writers take the whole writing notebook thing a little too seriously.  I have come across many an article with suggestions on how to organize your writing notebook.  They recommend dividing it into sections: perhaps a section for motivational quotes, a section for story ideas, a section for fragments of dialogue, a section for writers and books to be checked out, maybe even a section for story or novel titles you come up with. 
I highly doubt that Wordsworth organized his poet's notebook in such a manner.  However, if order and organization inspires creativity, why not organize your writers or poets notebook?  And if a fancy writing journal inspires you, go with it.  I won't call you a poser.
Agatha Christie wasn't very organized.  Nor did she purchase expensive writing journals.  Recently, the author's many writing notebooks were unearthed and marveled over.  The notebooks provide a glimpse into her exceptional mind; they contain intricate plot details, notes for new stories, and plots for plays, all written in Christie's almost illegible handwriting.  The notebooks were not in any sort of order; notes from one novel appeared just pages away from notes of a short story that was published years later.  It has taken the author John Curran years to sort out the information, to transcribe the handwriting, and to unearth the secrets behind Christie's writing process.
Interestingly, Christie rarely used the same type of writing notebook twice.  Some of her choices included a Lion Brand Cash Book, a Silverine Exercise Book, and a Marvel Exercise Book.  No Moleskines for this great mystery writer. 
There are 73 of Christie's notebooks altogether.  73.
Agatha Christie knew that a great writing notebook is a storage facility for fresh ideas.  Ideas are like perishable foods: you have to refrigerate them or freeze them quickly before they are inedible (or unusable.)  Keep a banana in your backpack for a week, and it will brown and you will probably throw it away without eating it.  Or maybe it won't be quite inedible yet, but it will be mushy and some brown spots will have to be avoided. 
The storage facility doesn't need to be organized.  Your lasagna isn't going to bad faster if it isn't situated in the perfect position in the back of the freezer.  Your notes will still spark creativity, even if they are next to notes from a literary lecture you recently attended.
Innovative ideas, crisp reparte, and vivid images will stay innovative, crisp, and vivid if you write them down immediately.  Store them in the back of your mind a while, and they will fade.  You may remember the gist of a conversation, but it probably won't contain the wit and those precise word choices that drew you to it in the first place.  Wait too long, and you may sit in front of a computer screen or a piece of paper, unable to retrieve the information at all.  Another brilliant thought… gone.
So, I'm going to give this whole writing notebook another go.  I'm going to keep it at arm's length and write in it, surreptitiously, whenever I come across an interesting thought or image.  I will eavesdrop on stranger's conversations and diligently transcribe them with pen and paper.  I will take notice of my surroundings, and jot down memorable images. 
I will continue to doodle.
Some of my notes may turn into worthwhile stories; others will be disgregarded or puzzled over.  And that's okay.   It's all part of the long and intensely personal writing process.
A writer's notebook is not important unless you always have it with you.  At all times.  No matter what.  Even when you're shoveling the driveway or changing your kid's diaper.  Because you never know when a Pulitzer Prize-winning idea might pop into your head, and trust me, you don't want that idea to go stale.
 Poets and authors who kept/keep writing notebooks:
 M. Somerset Maugham
Jack Keroac
Emily Dickinson
Vladimir Nabakov
Ernest Hemingway
Marvin Bell
Mary Oliver
Other places to check out:
Agatha Christie's Secret Notebooks
Breathing in, Breathing Out:  Keeping a Writer's Notebook by Ralph Fletcher
You thoughts:
Do you keep a writing notebook?  Consistently?  Is it a Moleskine?