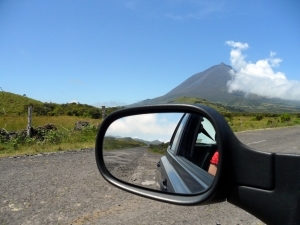 I put a lot of myself into my characters. I don't mean this in the metaphorical way which simply means that I care a lot. No, I literally take my experiences and fictionalize them to be a part of my character's lives. It isn't something I set out to do. It kind of creeps up on me. I'll have a character in a scene, and something will happen that relates to a period in my own life. I'll slide that in as a backstory, or some kind of reference. It never really ends up happening exactly as it did in real life, but it can come pretty close. And sometimes I alter the moralities surrounding the situation, and have a totally different outcome. In other words, I ask what if I had been that character, how might things have turned out differently?
It's interesting to think about (for me, at least). The human position. As fiction writers, part of what we try to do is create characters other people can relate to. But each of us has a very limited perspective. I don't mean in terms of our profession, or how many places in the world we've been to, but out of billions of humans, we've only ever seen the world through the eyes of one. So, in essence, we are constantly making assumptions with every character we create. We write about love, and hate, and excitement, all of these different emotions with the goal of moving the reader. But how can we ever be sure?
Granted, there are ways to intelligently predict what kind of stimuli will have what kinds of effects on a broad audience (just how if a joke is funny, when told the right way, most people in a room filled with like-minded people will probably laugh). But when we talk about the small things, like how the voices in a character's head sound when trying to make a decision, or the decision making process itself, or the types of things worth remembering...it's all just a part of us, isn't it? The way I experience nervousness may be different from the way you experience it, or the way I show love may be different than the way you show love. It all boils down to trying to connect with people in a way that's effective, and sometimes we try to do that by connecting with ourselves.
I guess the real question is, how much can we rely on experiences that impacted us to have the same impact on others? For example, in one of my stories I talked about the feeling of being in a bookstore, and having the urge to buy a new book, even though you have a lot of unread books at home. How those unread books loose their luster once they've been off the shelves for only a few days, and how the enticement of something new will always win out. One of my writing group partners really connected with it, and it was a special moment for me, because it really was just something I felt myself, and that accidentally ended up in my writing.
On the other hand, I've had times when people will critique something and say that 'this reaction isn't realistic' or 'a person wouldn't do this in real life,' and I think . . . well, I did. It's funny, because we're all created so similarly, and there are things universal to a large majority of us, but at the same time we're so different. How do you reach everyone? I guess that can never really be the goal. I guess it shouldn't be the goal.
I've heard that some writers stray away from this, and actually try to make their characters as unlike them as possible. It makes sense, to a certain degree, to distance yourself from the character so that your own thoughts and beliefs don't interfere with his or her actions. I think it would be a hard thing for me to do, though, and that my characters might come out stale. But it might be a useful skill to develop. Besides, who wants to read a book full of Justin's anyway? ;)
So how do you make your characters come alive? Do you give them a part of you? All of you? If you took all the characters you've ever written and plucked out a little part of each, would you be able to create a small blueprint of your life? Or is it just the opposite? In a nutshell, where do your characters come from?