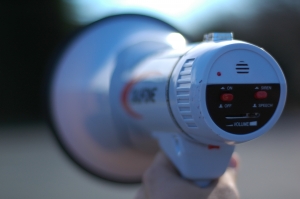 Writing well, no matter what the style or subject, is a matter of juggling multiple concerns and aspects of the art. There's any number of things percolating, both in the forefront of the author's mind and in the shadowy depths, but one of those things that you may not think about a great deal is the authorial voice. If this is true of you, dear reader, I invite you to take a moment and ponder it, because your voice may be one of your strongest assets.
It's true that good writing has many components; this blog and its various authors have discussed those components at length, and will continue to do so. Each of those components is vital, but they go into the background. The authorial voice, on the other hand, is the sum total of all those aspects on which you worked so hard. How the text "sounds" in the reader's mind can make or break the presentation, and in fact becomes one of the major selling points.
Think about your favorite authors for a moment, the ones whose every book you devour as soon as possible. Don't you hear the words in your head as you read? Even if you don't, I would bet that you have a sense of how they sound, based on their writing. Ever heard an interview (or in rare cases, a commercial) with one of your favorite authors and were amazed at how different they sounded than what you expected?
I was floored the first time I ever heard Isaac Asimov's voice. I thought he was pulling a prank, because after years of reading his fiction and science writing, I expected a deep, rolling baritone like James Earl Jones, which isn't even close to how he really sounded. For me, Asimov's style as a writer—knowledgeable, witty, and with enough joie de vivre for two or three mortal writers—translated so well into a mental image of a voice that it never occurred to me that he wouldn't sound like that in the world. Granted, I started reading him at a young age, but the point is that Asimov successfully established a voice in his writing, and that was part of his draw.
Most authors, like musicians, develop a style that works for them, and they deliver their books in that style. That's not a bad thing, because in developing a voice, an author is expressing a viewpoint, a series of choices in what is important and what needs to be stressed in the telling of narrative. Of course, everything the author chooses to tell you does the same thing, but in the voice, the author ties it all together. How the storyteller relates the narrative is almost as vital as the story being told.
When Terry Pratchett tells the ongoing tales of Discworld in the bemused English humor of the accomplished satirist he is, the inflections and weights of the text gain emphasis that the events of the story might not otherwise have. When Stephen King spins another yarn about Castle Rock and other shadowed corners of the world, his blue-collar New England view of the world simultaneously colors the events and anchors them in reality. Pick any author with a number of books or stories to their name, and you'll find the same thing in virtually all cases.
Developing a voice is vital to your work, because that voice will keep your readers drawn into your world and make them believe it. Other aspects of the worldbuilding process are no less vital, but if all else fails, developing a strong voice allows you a little leeway. A good storyteller can make an audience believe in stories when characterization and plot fail, because if the readers trust the teller, a whole lot of disbelief can be suspended. Am I telling you to develop voice at the expense of other aspects? No, because that isn't playing fair with the reader, and if you abuse the readers' trust, you will lose it. However, if the voice you have as an author is trustworthy, readers will grant you a little more slack, which not only can get you through weak spots, but allow you to take chances with the material. That's what good art should do, and voice is one of the best avenues through which to achieve that.