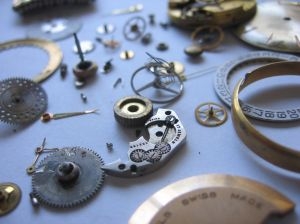 I was writing a scene that took place in a concentration camp. My eyes were closed, I was channeling a character's visceral reaction to the brutality, sensory details were pouring in, and then—
"Mom, can I have a slushie?"
Talk about a buzzkill.
Don't get me wrong…I love my kids. And my husband. And my cat. But sometimes when I'm trying to steal a precious chunk of writing time, I fantasize about running away and joining a circus, preferably a circus without any other people or animals in it. This would probably be more like an exterminator's tent with an internet connection. I would properly ventilate it, of course, and have snacks.
As a person with a "real" job (actually, four or five "real" jobs), I find writing to be both a respite and a responsibility. It takes time away from my other life duties, but it's essential to who I am. From a young age, I was driven to put words to paper, and I envied the writers of books in my local library with a worshipful attitude bordering on religion. My biggest dream (other than escaping to Narnia by way of my mom's walk-in closet) was to have a book printed with my name on the spine, propped up on a library shelf.
A real challenge for me is trying to find a way to walk this delicate balance . On one hand, there is wanton artistic freedom paired with full-on parental neglect. On the other, a little writing time blended with enough quality moments with my family to ensure that they don't ask for my ID when I come home at night. I constantly teeter between the two, but so far everybody still recognizes me. Sometimes the cat looks at me funny, but she moonlights as a serial killer, surgically removing the organs of her rodent victims and arranging them tastefully on our welcome mat. I think her judgment is suspect.
I've tried lots of different methods to steal the time I need. I've tried signs on the door ( Mommy's Writing!, Mommy Needs Alone Time!, Mommy's Head Will Explode If You Ask Another Question about China's Gross National Product! JUST STOP! ). No one reads anymore. I've tried leaving the house and going elsewhere, but that usually results in a series of cell phone calls that go like this: "Hey. Sorry to bother you, but….a) Where's the ketchup? b) Did you wash my underwear? c) Is tomorrow Tuesday? d) Is Mount Everest taller than God? e) Do you know where I put my purple tie? F) Do we have any rice flour? g) Did you call me? h) Have you seen my phone? Oh, wait. I'm calling you on it. Never mind." Yeah, so the going away thing has mixed results.
Turn off the phone, you say? I've tried that too. I find a nice, quiet spot in a Panera or a Starbucks or a friendly local coffee establishment, find a power outlet, and hunker down for some serious keyboard communing. Just as I hone in on my world, a party of twenty sits down opposite me. They are having a baby shower, a lunchtime mommy-and-me playdate, a post-soccer game celebration, or a crab-fest about how the local retirement home shuffleboard finals were rigged. And they are loud.
So, I leave that place, go to another, it starts again. This leaves me with no alternative except to go back home and order my family away as if they have the plague. That works to an extent, although I get the same phone call problems I have when I leave them. The questions are slightly different: "Hey, sorry to bother you, but a) Do we need ketchup? b) Do you need any underwear? There's a sale. c) Was yesterday Monday? d) Why can't we move Mt. Everest to a more convenient location? e) Do you know where I can buy another purple tie? I lost that other one. f) Do we want me to pick up rice flour? g) Did you call me? h) I tried to call you on the house phone, but all I heard was a click and long, awful scream. Is everything all right?"
How do you steal the time you need to write?