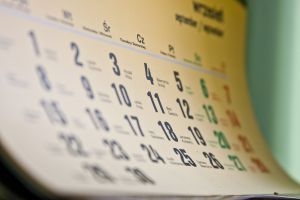 Keeping deadlines is important, so they tell me. During my freelance writing career, I am proud to say I have yet to miss a deadline. This is not because I am organized or a planner: I am a procrastinator, which is sort of an illness. It causes me headaches, anxiety, and stress, which read like symptoms of a real illness, so it must be so.
I am a sick person.
Like many diseases, procrastination is one that a) afflicts a certain type of person, b) can be managed through healthy living. Yes, procrastination is like diabetes. Diet and exercise can actually manage your disease. Instead of passing an examination by the skin of your teeth (i.e., meeting your deadline), treat procrastination accordingly.
Since I have admitted that I procrastinate writing my freelance writing assignments, you can probably understand why, three years later, I only have about 14,000 words of my (what is sure to eventually be in the distant future) a brilliant novel. I recently admitted how easily diverted I am by the lures of the internet. Now you might think the internet is the cause of my procrastinationitis- I assure you I was afflicted long before the internet was accessible to me.
Anyway, I've been working on staying off the internet. And it's been going well. The four hours I spend cramming before a deadline are free of frivolous internet surfing. I am now ready to tackle the procrastination problem.
First, I would like to address the reason for my procrastination. I think perhaps I wasn't hugged enough as a child. I don't really KNOW why I am the way I am. Perhaps I am just lazy. Perhaps I avoid things I think won't be fun because I LIKE fun and sitting in front of a computer writing about hot new iPhone applications doesn't feel like fun. I think some of us are just wired this way. The thing is, it hasn't hurt anyone but me so far (since I have always made the deadline.) But I'd like to live without the anxiety, as anxiety causes my hair to fall out and I don't particularly desire the look of a balding thirty-something.
Waiting until the last minute is an especially bad habit for writers. One day, the deadline won't be for a short 400 word article, but, perhaps, a long 3000 word article or even an entire first draft of a novel! It's important to learn how to plan these things out. So, to become more efficient and less stressed, here are some ways to successfully manage an occasionally heavy workload.
1) Have a writing calendar. I like to use a non-electronic calendar, posted where I can see it while I am working. I simply print off a blank calendar from the internet and write in my deadlines. This is also a great place to put deadlines for miscellaneous writing competitions, etc. Having it all down in front of you helps organize your priorities. Plus, I find having a visual representation of all of the contests, submission deadlines in front of me is strangely inspiring.
2) Make mini-deadlines. Writing projects should be finished at least 48 hours before they are due. What if you get food poisoning the day before and are unable to meet your deadline? These things happen. Prepare for them.
3) Prioritize. Personal deadlines come behind professional deadlines. However, by managing your time, you will make more time for personal projects.
4) Turn personal projects into "professional" projects! Plan to try and sell a personal essay to a magazine. Make a deadline for completing the essay, for sending out query letters, etc.
5) For larger projects, don't get bogged down in the long-term. Have daily and weekly goals. Before you begin working, write down your writing goals for the day. Make sure they are manageable. Adjust weekly goals accordingly.
Planning is one of those things that seems like it will take more time than it is worth, but that definitely pays off in the long-term. Especially if you make it a daily habit. So you should do it! Starting tomorrow. I mean today. Definitely today.