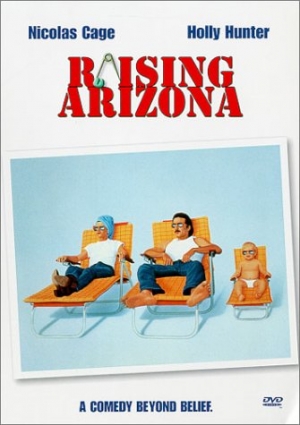 "Prologues are usually a lazy way to give back-story chunks to the reader and can be handled with more finesse throughout the story. Damn the prologue, full speed ahead!" Laurie McLean, Larsen-Pomada Literary Agents
That's a personal opinion, of course.  Ms. McLean is being a little dramatic.  Prologues, after all, are steeped in tradition:  the great Greek playwrights used prologues to set up the focus of their drama before the chorus entered.  Chaucer used a prologue in The Canterbury Tales to provide background, setting, and character sketches.  The Coen brothers' brilliant prologues set the tone in films like Raising Arizona and The Big Lebowski.  (Yup.  I just put The Big Lebowski on the same plane as Chaucer. And I'm not sorry about it, either.)
Nonetheless, when I open a new book and discover the prologue, half the time I skip it and go right to Chapter 1.  Why do I do this?  I dunno. Perhaps I'm afraid the prologue is a flash-forward, and I hate flash forwards.  Perhaps it's because I have this idea that prologues are dull and often unnecessary.
Apparently, I am not alone in this assessment, which gives me a strange satisfaction.  I went looking to see what agents and editors really think about prologues.
Nathan Bransford, the most popular literary agent on the web, says this about prologues:
If you can take out a prologue and the entire plot still makes perfect sense, chances are the prologue was written to "set the mood". But here's the thing about mood-setting: most of the time you can set the mood when the actual story begins. Do you really need to set the mood with a separate prologue? Really? Really really?
Agent Kristin says this:
This is why almost all the agents I know completely skip the prologue and start with chapter one when reading sample pages. A beginner writer might actually be able to do good character, dialogue, tone, pacing, and whatnot but it's more than likely not going to show in the prologue.
Now in defense of the prologue, when it's done well, it's truly an amazing tool. The number of times I've seen a prologue done extraordinarily well in requested submissions? Well, I can count that total on two hands….
When asked by a writer whether or not she should include the prologue when an agent requests the first ten pages of her novel, Miss Snark says this:
If you have a prologue, DO NOT SEND IT as your first ten pages.  Send the first ten of chapter one. 
No exceptions.
You don't have to explain it either. IF the agent wants to read the novel and asks for it, THEN you mention in your catchy and enticing cover letter that you have a prologue.
I hate prologues. Not quite as much as I hate synopses, but close.
Here's what I learned about prologues:  They should be short.  They should be an integral part of your novel.  If you take away the prologue and your novel still makes perfect sense, you might want to consider ditching it.  (The prologue, not the novel.) 
A good prologue provides background information that doesn't fit into the novel any other way.  (Like those blurbs in Star Wars- y'know, after a long time ago in a galaxy far, far away…) 
A good prologue piques the reader's interest.  It might show a future, dramatic scene that entices the reader to find out how and why an event occurred and what happened after.
However, even good prologues have a good chance of being ignored, not only by an agent, but by a future reader. 
"But Stephen King uses prologues," you might argue, "and so do Robert Ludlum and Clive Cussler!" 
King, Ludlum, and Cussler don't have to worry about getting their manuscripts thrown into the slush pile.  Just saying.
 So your thoughts: to prologue or not to prologue?
 Sources:
 http://misssnark.blogspot.com/2006/01/pass-prologue.html
 http://blog.nathanbransford.com/2009/03/prologues.html
 http://pubrants.blogspot.com/2010/02/why-prologues-often-dont-work.html