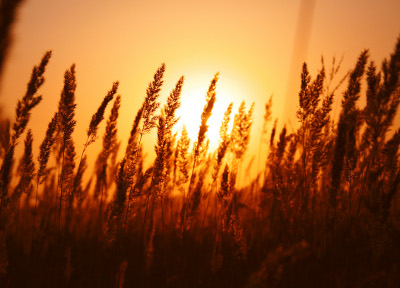 To paraphrase the Bard:
"To write, or not to write, that is the question: Whether 'tis nobler in the mind to suffer The slings and arrows of outrageous rejection, Or to take arms against a sea of trauma And by opposing, end it. " When you're a writer, you inevitably come to the end of projects. This is usually accompanied by celebration and/or a sense of relief and/or a sense of emptiness. I'm always left with the question of what to do next.
I have no shortage of ideas. I always have new projects running through my head, and I usually write them down so I don't forget them, just in case they're good. But when I finish a project, I usually feel like I need a bit of a break, a period of recharging and regenerating. The question for me is, when is the break over?
I think there is a lot to be said for a fallow period. When farmers plant their crops, they usually leave a field empty for a season so the soil can recover and accumulate nutrients for the next planting. When they do seed the soil again, the new harvest can come in stronger and hardier because the soil has essentially rested and recovered from its previous planting.
Perhaps the act of writing works in the same way.
Maybe we need a period of rest, a time to recover after spending blood, sweat, and tears on the act of creation. I am always wondering, though, when I should get back to work. How long to rest? If you rest too long, do you lose your edge and your skill?
I suppose I could listen to my instincts and live by the rule of inspiration. When I feel inspired, I'll write again, I could say. Then the apprehension kicks in. What if I don't ever want to write again? It's part of my identity, and I've been doing it for as long as I could hold a pencil and decipher the alphabet. What if I don't feel like doing it again? Who would I be?
I suppose a lot of this is unproductive navel gazing. Some (mostly my relatives) would accuse me of over-thinking yet again, a habit I developed early in life because of too many mystery novels and a penchant for Ellery Queen and Isaac Asimov. I've sort of made peace with it, because it's clearly not going anywhere. At the base of it, I suppose that fear is driving my apprehension.
I'm afraid I won't have another really good idea. I'm afraid whatever I pour my heart and soul into won't be "good enough" as judged by someone else who must know better than I do (critics and editors, I'm talking to you.) And what I[m most afraid of is that I won't want to write again, and if that happens, who will I be? Will I become a cat person who watches Wheel of Fortune until they pry my cold, atrophied fingers from the TV remote?
Then I remember what usually happens. I wait for a while, and something eventually insists on being written. That's probably what will happen again. And if it doesn't, then I will try and live with it, and trust that if I don't want to write, I shouldn't.