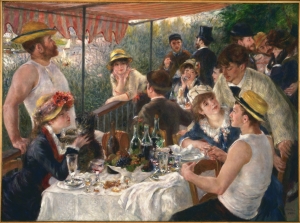 Learn what rights you own and what you should sell. The story you've written is your "intellectual property", to sell all at once or in careful—and lucrative—parcels.
Knowing your rights is the first step you take to protect and ensure the most sales for your work in today's tough market. You start out with a lot of rights. It's wise not to sell them all at once (e.g., called "All Rights"), unless under rare very lucrative conditions. Once you've sold all your rights the piece is no longer yours to do anything with. I mean any aspect of your piece. Say, you created a character that you adore called Suvasa in a wonderfully realized world of fantastical creatures, amazing ecology and compelling social structure. None of those things belongs to you anymore. You sold Suvasa and her world away. You can't use Suvasa or any aspect of her world in any story you subsequently create. Hence the lucrative part I mentioned earlier.
Kinds of Rights
Take for example, your short story...There are many rights that you may sell. Rights include different print formats, film & television, internet and digital formats, audio, CD and DVD. Rights may also be regionally designated (e.g., North American Rights vs. European Rights) and based on language (e.g., English, foreign language). The most common rights include:
 All Rights: you give up all rights of ownership in the work (including character, concept and world), letting the periodical publish the work in any format including print, film, electronic, without compensating you any further.
First Rights: this entitles the magazine to publish your work for the first time anywhere and in any format.
One-Time Rights: this right gives the publisher the non-exclusive right to publish the work once.
Second Rights/Reprint Rights: this lets a magazine publish your work following its first publication elsewhere.
First Serial Rights: this is the right for a periodical or newspaper to print all or part of your piece for the first time (never before published) in the specified region.
Second Serial Rights: this non-exclusive right allows several periodicals to reproduce your work after initial publication.
What You Can Do
When you first offer your story to a publisher, you should clearly state the rights that you are offering. This means keeping track of what you are selling each time you do. Most often the first right that you grant is "First North American Serial Rights" (FNASR), with "First" often implied. This means that the periodical has purchased the right to publish your story for the first time in North America. This does not include (unless specified in the contract) the right to reprint your work in another format, such as an anthology, or outside of North America. If an editor wants to buy subsidiary rights to the "First North American Serial Rights" they need to request this of you. From this sale you may still sell subsequent serial rights, often called "reprint rights", which are non-exclusive rights from "Second North American Serial Rights" on through to "Fifteenth North American Serial Rights" and so on.
To protect your remaining rights, it is wise to specify the rights you are selling each time. For instance, instead of just "First Rights" it is better to specify "First International Rights", "First Electronic Rights", or "First Serial Rights", "First North American Rights), etc. The more specific you are, the more clear you—and subsequent publishers—will be about your remaining rights.
Some Information on Copyright
The author is the only person who has the right to copy his or her work or permit someone else to. This includes publishing, producing, reproducing and performing. In Canada, where I live, copyright is automatically acquired upon creation of an original work. There is no need to register your work with Copyright Canada. To ensure copyright, you can mail a copy of your work to yourself by registered mail, then, once you receive it, do not break the seal. If the question of authorship arises, you have a sealed and date-stamped copy of the original piece.