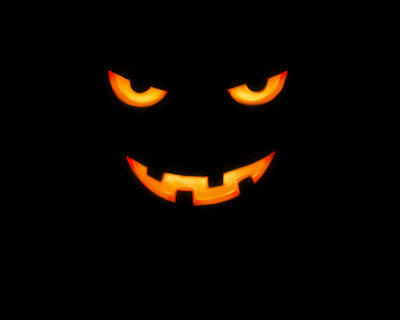 I miss scary fiction. There's something to be said for a story that comes right at you with no other intention than to force the reader or viewer up against the wall and shout "Boo!" Or even better, come up behind you in the dark and lightly lay a cold clammy hand on your neck. Isn't that a great image? At heart, it's a pretty old one, but it still works, because it's simple, direct, primal. Modern horror tends to come packaged for the gorehounds or the ironic post-modernists or the gallows humor junkies, which is fine as far as it goes; there's a place for all that. But, I relish a good scary story, something that edges up to you and then, with a well-turned phrase, bam! There's the hand in the dark again.
Years ago, I read a short story with a very striking gimmick: Virtually every sentence in the story was one word long (there were a couple that had two words, but that was it). I believe it was Richard Christian Matheson who wrote it, but I'm kind of foggy on that. At first, the structure seemed like it was just a gimmick, but a few graphs in, the rhythm of the story became apparent, and it was clear that RCM had a very specific reason for that rhythm. I've never seen any other story like it, even though the basic narrative structure was the same, but had it not worked, I doubt I would have remembered it at all except as a failure. It did work, though, and it had a definite buildup to a chilling payoff. Of course, RCM comes by it naturally; his daddy slings a mean story himself.
Anyway, the point. Despite its structure, the story worked as something more than an exercise. It was scary, unnerving, chilling in a way that much mainstream horror doesn't seem to be. Many authors who made a name in horror—King, Simmons, a number of others—don't seem to be plying that particular trade anymore. What was the last horror novel or story you read that wasn't chock-full of ironic humor, supernatural romance or gallons of blood and viscera? All of these things borrow from horror, but aren't necessarily of it. There's got to be some out there; horror never goes away. Maybe it goes underground for a while, but it never leaves.
So, as we quickly approach October and the best holiday of the year, what will you be turning to for your monthly scary requirement? I'm throwing open the forum at this point, because I really want to know. I'm tired of torture porn, I'm tired of retreads, I'm tired of sociology in ghouls' clothing. I want to be scared again. Not grossed out, not to laugh knowingly at conventions being subverted, but to experience that frisson of a well-made film, a well-written story. Something like the first time I read "Canavan's Back Yard" by Joseph Payne Brennan, or "Pickman's Model" by H.P. Lovecraft. Or virtually all of the stories from Stephen King's first collection of short stories, Night Shift. For that matter, I'll settle for the killer last line of King's Pet Sematary: overall, a turgid book, but he ended it right. Robert McCammon's "Yellowjacket Summer," Dennis Etchison's "The Late Shift," Ray Bradbury's "The Small Assassin": if you're familiar with those stories, you know what I'm getting at.
Tell me what scares you, what you recommend in print (if you've got a film recommendation, I'll take that too, but I prefer print myself). Don't care if it's gory or if it has themes and subtext; it just has to be scary. Any suggestions or recommendations are appreciated, and since I read all the comments, feel free to post as many as you can think of. Thanks for your help.