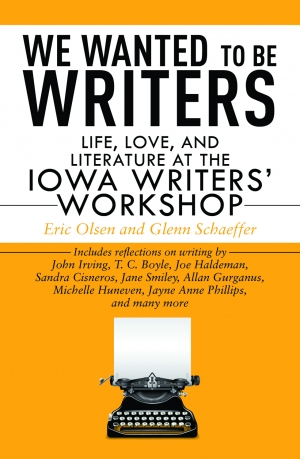 Eric Olsen visits my blog this week to talk about his new book We Wanted to Be Writers: Life, Love, and Literature at the Iowa Writers' Workshop, which he wrote with co-author, Glenn Schaeffer. Olsen and Schaeffer attended the famed workshop in the 1970s and recently interviewed their friends and classmates from the workshop. This is part 1 of a 2 part series. Tune in next week when one lucky commenter will win a free copy of the book! Hi Eric. Thanks for being here. Let's get this one out of the way: Where do you get your ideas? And did being in the Iowa Workshop make those ideas come faster and easier or not? Also, where did the idea for THIS book come from?
This is the eternal question, the fundamental mystery, I suppose. Lots of the writers in We Wanted to be Writers talk about how they make themselves available to an idea and work in such a way as to not scare off a good idea should one come along.
Ideas have three basic sources I suppose: Your own experiences; the experiences of others; and stuff you make up. A lot of the best writers I know draw from all sources, whatever's available. They also tend to do a lot of research.
As for the idea for the book, about four years ago Glenn was starting a rewrite of his MFA thesis, the first 60 pages of a novel called Holy Shaker, which he'd decided, finally, to finish. He asked me to edit it for him. We were sitting in his place in Las Vegas one afternoon going over some pages and we started thinking: here we are, 30 years later, still at it. What the hell is wrong with us? What is it about writing that keeps pulling us back? Next thing we knew, we were calling old chums from Iowa and asking them that same question. Everything else seemed to follow from that first question and pretty soon we had the start of a book.
In general, what did the writers you interview see as the advantages/disadvantages of a Writing Program like Iowa?
There's a huge advantage to spending two years in a community of writers. Writers write alone, but they need a community to truly thrive creatively. As Sandra Cisneros put it, it's like giving yourself a haircut. At some point, you need someone to help you with the back, so people don't go: "Damn, where'd you get that bad haircut?"
Whose idea was the "Books by the Bed" segment? What were the biggest surprises from that segment?
"Books by the Bed" was my idea. Like most writers, I suspect, I'm always curious to know what others are reading. I deliberately asked about books by the bed, as I figured that one's late-night reading might be somewhat different than what one has on display on the shelves elsewhere. More intimate, maybe….
The biggest surprise was how many foreign authors I'd never heard of these people were reading. Experimental stuff, with single sentences that go on for pages. This was bed-time reading, you understand. Incredible. I go for murder mysteries late at night.
What was the best part of the program for you? The biggest disappointment?
I think Glenn and I agree that, getting back to question #2 above, the best part was being in a community of writers. Each of us found a small circle of other writers who would read our work and critique it honestly and constructively, just as we'd read and critique theirs. This was hugely important to our development as young writers.
The biggest disappointment? I suppose that some of the big-shot famous writers they brought in were jerks. When you're young, you don't realize that geniuses can be complete assholes who are there for the buck, not to teach. That said, most of the writers who came to teach were generous and truly interested in helping young writers. John Irving, Lenny Michaels, and Anthony Burgess come to mind, in particular.
Did you contact anyone who refused to be in your book? What reason did they give for declining the invitation?
A couple poets. One said she was just too busy, what with being a poet and all. Another simply didn't respond. I assume she was too busy being a poet, too. Otherwise, everyone else was quite generous with their time.
Do you have any advice for young writers?
I love giving advice. I could go on for a couple hundred pages answering this one. But let me offer two bits of advice that have always resonated with me. One, read a lot and read widely. When you look at the careers of very good, very prolific writers such as Joyce Carol Oates and Jane Smiley and TC Boyle, reading is a huge part of what they do. Two, put in the time at your desk day after day after day; stay at your desk and don't do e-mail until the day's work is done. This is crucial. As Michelle Huneven put it in our book, a writer must "privilege" writing. "One's creative life has to be put in the forefront, ahead of social life, domestic life (grocery shopping, housekeeping, taking the dog to get her shots)."
Who is your celebrity crush? (Justification optional)
Celebrity crush as in writer I really like? Assuming any writer can be a "celebrity" in our culture these days. I think if there's any novelist I wish I could write like, it's Anthony Burgess. And I wish I could write essays with Dave Hickey's wit, concision, and elegance.
I noticed a lot of the interviewees saying things like "In my first marriage. . ." Is that just the state of things or is there something about being a writer that is inherently difficult on relationships? On the other hand—and maybe this didn't come up in the interviews—quite a few of us have been in marriages of 20, 30, even 40 years. I would be willing to bet that among the group I interviewed, the incidence of failed relationships is no different from that among the general population. I'm not sure writers are any worse in relationships than anyone else; they are, after all, good communicators. That has to help.