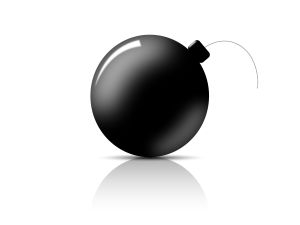 Edward taught me to drive. It had been two months into our relationship, and I was terrified. "You'll be fine," he said softly as he drove his battered brick-red Range Rover to an empty gravel lot. "Driving is a lot like living. You just point yourself in the direction you want to go, step on the gas, and go there." "Except living can't leave you in a mangled heap outside a dirty public rest stop near Fresno." He paused. "Actually, sometimes it does." - Laura Preble, Anhedonia
I'm not in the habit of quoting my own writing, but this little episode from my latest novel seemed very fitting when discussing unexpected curve balls thrown by life and the muses.
Lately, I've been on the receiving end of such curvature. In life, my personal relationships have undergone a Frankenstein-like jolt of lightning, which has been both refreshing and terrifying. But you don't come here to read about the measly life of one humble Scribophile scribbler.
You're likely more interested in the writer kind of curve balls…the things that happen during the process of creation that are expected, serendipitous, surprising, or downright scary. The kind of stuff that later, when you reexamine the doings of your life, you realize were junctions of sorts, forks in the literary road where your project could have gone one of two ways. Hopefully, the way you chose was the road less traveled, but also most perfect for your piece.
My example comes from the novel I finished over the summer, Out. I'd been working on this young adult speculative fiction piece for nearly three years, off and on. I'd been discouraged from working on it by my former agent, who said the idea was too offbeat. I'd given up on it like you give up on a boyfriend you like a lot but who your friends tell you isn't right for you, even when your heart tells you otherwise.
I couldn't leave it alone. I had to go back. So after jettisoning the agent, I looked it up again, called on it, brought it flowers, and tried to get to where we started from. I spent a lot of quality time with it, nurtured it, stared into its eyes. Finally, we started getting somewhere. I wrote, wrote more, cranked out fifty pages, and felt well on the way to completing it.
Then life threw that curve ball. I got to page fifty, and something didn't feel right. That little voice in the ear that buzzes when things don't work kept nagging at me, and I ignored it. I told it to go away, that I was busy. But the voice kept buzzing.
I found that I took more breaks. I ate more. I suddenly needed to watch television shows I hadn't been keeping up with. And I strayed away from my book. I let myself get distracted. I let the fire go out.
Eventually, I came back, and my story was still waiting for me, wearing the same shoes it had worn when I left. I came back more clear eyed, and saw immediately what was wrong: I had been forcing the story to be something it wasn't. I had to make some tough decisions. Should we break up? Should I change for the story?
Ultimately, I realized that you can't make something, or someone, be what they are not. I axed almost half of what I had and went back, repaired, rebuilt. I did a lot of soul searching, background work, talking with those characters, and seeking the truth at the core of the novel.
What happened then was magical, and very unlike being left mangled outside a dirty rest stop near Fresno. I got a second chance. I found my way. Because I was honest and honestly dealt with the mistakes I'd made, the story was better for it.
Now it's finished, at least for the moment. I've made more changes, additions, tweaks, adjustments, but the heart, the core of the story, hasn't changed because I got it right the second time around.
I fell in love with it all over again. I'm driving straight, avoiding obstacles, hoping to avoid Fresno in my travels.
How do you handle unexpected obstacles in your writing?