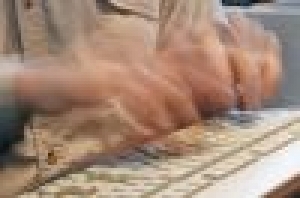 I don't plot. At all. Never. Well, maybe once or twice I've plotted dastardly revenge against those who have wronged me (and they will pay dearly, oh yes, they will!), and I might have plotted in my pants after hearing some exciting news or eating a greasy cheeseburger; but when it comes to writing, I simply don't plot. Heavy petting? Big fan. Heavy plotting? Never. I don't vigorously plan my stories before I write them. I don't outline. I don't make graphs and pie charts littered with arrows leading from one sequence to the next that looks like a literary Candy Land game board. Sometimes, I'll have an ending in mind, but have no clue as to how I'm going to get there. Other times, I'll have an opening scene, a few characters, and nothing else. I don't like my work to be so heavily pre-planned that it stifles the creative process.
Many writers can't even begin writing until they've meticulously composed their story from beginning to end, noting every important detail. As writers, we all have to figure out what method works best for us. I like to write on the fly. It's hard for me to know what's going to come next until I've finished a scene, and I feel my stories are better for this looseness. I finish one scene, and based on how that scene ends, I flow into the next. The story I'm creating is an imagined world, and I'm simply a guest in that world, so why not let the characters give me a tour? Why not let them lie to me? Confuse me? Impress me? Fail me? Come to my rescue in the end? Sure, I created these characters, but they have thoughts of their own as they live in the fishbowl of electric and tissue that is my brain.
The idea, of course, is what's important. Once a great idea comes to me, I'm ready to roll. It's usually just the vaguest of ideas, one that I couldn't even articulate into words if someone were to ask me about it. "Well, it's this lesbian vampire thing, but one girl isn't a lesbian, but aren't all female vampires supposed to be lesbians? And there's heartbreak and comedy but it's really scary." I know when I have something I can cling to. Ideas are mischievous little bastards, though. Sometimes, ideas hold out on you, like some long-forgotten disappointing Prom Date; other times, they flow copiously, like cinematic blood on a 70's drive-in theater screen. Weeks will often pass without a single good idea coming my way other than: Ervin, you need to shower today. So, on those cherished days when an idea arrives, I want to begin writing immediately.
Now that I've plucked a great idea from the depths of my fishbowl, then what? Usually, a character or two will have come along with that idea. Still, I need to work the characters out in my head before I start writing. Characters and an idea. That's all it takes. Then I write a scene. Then another scene. Maybe scenes that occur later in the story will come to me, and I'll make note of them. Never, though, am I referring back to a structure I've composed beforehand. I'm just writing. I'm writing, deleting, rewriting throughout, changing ideas as I go, dropping and adding characters, but never am I fully plotting anything. I love the freedom in the way I write. I love that sometimes where I'm headed is a complete mystery to me. I love that certain a character whom I've imagined as being decent and warm suddenly turn cold and cruel, or that occasionally a character I've imagined as a bit of an asshole turns out to be surprisingly kind.
I recently finished a screenplay. I spent two months writing it, and another month editing it. All I started with was a one-sentence idea and two characters. In a day, I had five characters and three scenes. In a week, I had all the characters and the first act. I had no idea how I was going to end the script until I wrote the last scene. During those three months, though, I never stopped writing. As I wrote, the plot developed into something I felt was great and original. If I'd have spent days writing out a detailed plot based on my germ of an idea, I would've come up with something completely different and probably not half as satisfying. It's simple: idea, characters, write. If you don't stop writing, all the necessary details will arrive in good time.
I'm not a plotter. I don't want to take a story where I think it should go. I want the story to take me where it needs to go.