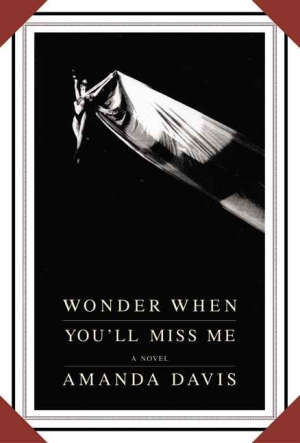 I once noticed---in the way that we've all been walking through a bookstore and been called to something by its silent siren's song---a book called Wonder When You'll Miss Me. I didn't know anything about the novel when I picked it up. The cover caught my eye: a female acrobat in fanciful circus attire striking a powerful pose. I saw that the author's name was Amanda Davis, and the author's photo was somehow ordinary and stunning at the same time, average yet striking. I didn't know her, but once I'd placed her book between my receptive hands, I had to buy it. So, having decided this was a book I was going to own, I finally checked the inside of the hardcover to see what this novel was about. I was buying it regardless, plot be damned, but it seemed logical to see what I'd got myself into.
I read:
Follow sixteen-year-old Faith Duckle in this audacious and darkly funny tale as she moves through the difficult journey from the schoolyard to the harlequin world of the circus. At fifteen, Faith was lured under the bleachers by a bunch of boys at a football game and raped. Now, almost a year later, a newly thin Faith is haunted by her past, and by the cruel, flippant ghost of her formerly fat self, who is bent on revenge.
"Okay, I'm down for that," one part of my brain said to the other. The side of my brain that's usually disagreeable kept silent. "I do love a good circus story. Maybe this will be something like Katherine Dunne's Geek Love." I took the book home and tossed it onto a pile of other books I'd just purchased: the new issue of Detective Comics, a copy of 'Salem's Lot featuring an amazing Pop Art-style cover, and the newest Tom Perrotta book. I hadn't planned to read Amanda Davis' novel right away. I was sure it would sit for a while. Two days later, I'd finished it; I was devastated. The novel broke my heart and gave me hope simultaneously.
We all have a little Faith Duckle inside of us. Whether we're shedding weight or baggage or emotions or people, what emerges is some new version of ourselves. But, like Faith, that part of ourselves that we've shed never truly disappears. Faith had once been a fat girl who'd been raped. Then she ran away with the circus, left her past far behind, and found an acceptance she'd never known, but her old self continued to haunt her, the self she saw as ugly and loathsome. I always see the parts of myself I don't like staring back at me in the mirror, even the parts I've changed, as if haunted by my faults. The book hit home with me, like a swift kick in the balls. Shook me. It didn't hurt that the novel is brilliantly written, captivating, and unforgettable.
Here's an excerpt:
I went back upstairs and walked from room to room waiting for someone to notice the new me, but no one seemed to. Disappointment pushed me outside. I tripped my way down wooden stairs, away from the bright lights of the house toward the small latticed huddle of a gazebo. Inside there was a bench and I sat, slapping away mosquitoes, with a tightness in my chest that made me want to scream. How could everything change so much and stay exactly the same?
I'd lost forty-eight pounds and my skin had mostly cleared up. I'd missed a whole semester of school and disappeared for seven months. It seemed like no one had even noticed I was gone.
It's been more than five years since I've read this book, and I've never reread it in full. Maybe I feel as if reading it in full again will alter that one perfect reading I experienced. I do, however, go back often and reread the many paragraphs I've highlighted inside my tattered old hardcover. I wish I could have the lovely Amanda Davis sign my meaningfully-marked copy, but that's never going to happen. I wish I could discuss the book with her, or at least listen to her talk about her novel at some crowded bookstore on a rainy Saturday afternoon. I wish I could look forward to her next novel. But I can't.
From wonderwhenyoullmissme.com:
On March 14th, 2003, a plane carrying Amanda Davis and her parents crashed into a mountain in North Carolina. There were no survivors.
She was 32-years-old and had just begun her book tour. Amanda Davis left behind one novel, Wonder When You'll Miss Me, and one collection, Circling the Drain. Many more of her superb stories exist in some other reality, and will be available for all of us to read when we arrive at the good place she already inhabits.
She will never have to wonder when I'll miss her: whenever I glance at my bookshelf. Dying so young seems unfair for anyone, but especially for someone like Amanda, who was not only talented but by all accounts kind and loving as well. Borrowing from Neil Gaiman, Amanda Davis "lived what anybody gets…a lifetime. No more. No less." Her words will get so much more than that. They'll get forever.