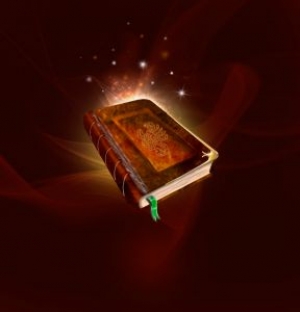 We've all met those people who have said to us, "Oh, I've always wanted to write a novel. I just don't have the time." Here's a very important writing secret I'll share with you: NONE of us has the time. But we do it, anyway. As writers, we decide that creating imaginary worlds where imaginary people live, love, and die is more important than Sudoku, television, knitting, updating Facebook, or claiming to be carrying Justin Bieber's progeny. We make a conscious choice that pushing nouns and verbs together to see what happens is the most important and fulfilling way we can spend our finite time on this earth.
If you are one of those people who feel that way (and if you're reading this I suspect you are), here are five ways you can pursue your writing goals—not next month or next year, but today, right now:
Write. Yes, it's difficult in today's busy world to carve out time to write and it takes sacrifice, but everyone has a little time that could be used to write. Jot a haiku on your lunch hour. Write a character sketch after the kids go to bed. Wake up early and write some lines about the sunrise. Put down the remote control, the PS3, or the feather duster, and pick up a pen or sit at a keyboard. Even if you only have five minutes. I promise you it adds up. I'm reminded of the story of poet William Carlos Williams, a physician, who used to write down lines on a prescription pad between patients. And he didn't do too shabbily as a poet, did he?
Submit. To send a submission in the old days, writers had to write and print extensive cover letters, address envelopes, lick postage, and walk to the mailbox. But look at it this way: you are at your computer right now. Click out of here (sorry, Alex), click on that packet of poetry or that piece of flash fiction, and send a quick e-mail to the on-line journal of your choice. Submission done. What'd that take, five minutes? Surely, you have five minutes in your day to feel like a writer. And nothing makes me feel like a writer more than sending my work out into the world. Here in California, the slogan for the state lottery is especially relevant to writers: "You can't win, if you don't play."
Read. You've heard this from everyone from your high school English teacher to every writing blogger on the internet, but I'll say it one more time: One of the best ways to become a better writer is to read. Read in your genre, certainly. But it also helps to read broad and wide. Read non-fiction. Read poetry. Read on-line. In print. Read the manual for your new i-thingy. Read the back of the cereal box as you enjoy your Lucky Charms. Notice how writers use language, words, rhythm, imagery, and sound. It pays off.
Observe. As you go about your daily life, look up once in awhile and quiz yourself: how would you describe that bird. Or that building? Is that color really silver? Or is more of a gray? or pewter? What is the exact quality of the sound of that car horn? Choose a simile: what exactly does the moonlight on your lover's calf look like? There are a multitude of opportunities every day to practice your writing skills, even if you don't have the time to sit down at the computer.
Eavesdrop. On a related note, one of the best writer's tools is eavesdropping. Whenever you're out in the world, keep an ear cocked toward your fellow homosapiens. They say and do crazy stuff. And not only can you find it anywhere you turn, but most of it is quite entertaining. The other day, for example, I saw my youngest daughter making faces at a restaurant because she was eavesdropping on two ladies who were saying some crazy things at the table next to us. How do I know she was listening? Because I was, too, and I was making mental notes—about word choice, sentence structure, rhythm, tone, and body language. I will never tell my children that eavesdropping is rude. It's not. It's a gold mine.
Network. One of the best ways to feel like a writer is to reach out to other writers. Start here on Scribophile. Critique a story or a poem. Send a private message. If you've been shy, start by commenting on a forum thread. You can't hide forever (that's right, I'm talking to you. You know who you are). But why stop there? Join a local writer's group. Go to a conference. Nothing makes you feel more like a writer than communing with like minds.
Sure, there might be a book in every person you meet, but it's another thing to sit down and—over time, with sweat and toil, sacrifice, self-doubt, and fear—crank out something that has beginning, middle, and an end and, eventually, just might be good enough to send out somewhere.
But I know you.
You can do it.
Homework: After spending some time eavesdropping on your fellow humans, come back here and tell me what you heard and/or saw. And here's the hard part: just state what you saw or heard in detail. No commentary, judgment, or analysis. Just facts--detailed, richly-drawn, specific facts.