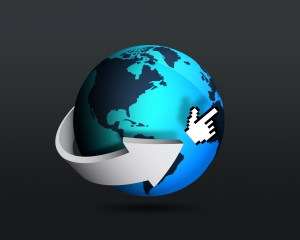 As with any art, there is a certain level of respect for 'the old-school' methods. For music, people look down on auto-tune and even electrical instruments. A hand-drawn cartoon is infinitely more impressive than computer-animated.
Writing is no different. We all know we would be in a kind of awe if we discovered our favorite author makes his or her masterpieces behind a typewriter from the 30s or, even more mouth-watering, with good old pen and paper. But it's 2010, and there are a lot of reasons not to stick to the same old methods. As long as the quality of writing and the spirit of creation is upheld, I see no problem with expanding the ways in which we write.
Mobile Writing
To be honest, I just got a new iphone after years of being left behind by the 'smart-phone' train, so this has heavily influenced my post today. Writing while I commute to and from work has become a staple in my productivity. But what happens when there are no free seats? If i don't have my computer? Typing has been made much easier on mobile devices and I've been looking in to multiple applications for aspiring writers.
For example, I'm writing this section on My Writing Nook, a simple writing application for the iPhone. It is during the workday and I am waiting in line to snag me a sandwich and I figure I have a few minutes, so why not be productive? Sure, I could whip out a writing pad and a pen, but would I be able to write this fast? Wouldn't I have to type it up later anyway to get it to you guys?
I found another application, called WritingChain. It keeps track of how many words you have written per day. Pretty simple, but simple can sometimes mean the difference between complacency and motivation.
There's another app, called Evernote. It lets you store notes, photos, voice memos, etc, etc and link them to each other. For example, if I'm shadowing a cop for research in a story, I can take a picture of him, record the interview, and then immediately jot down any notes, all on my mobile device.
I just transitioned to typing on my computer. I had the option of either emailing the small bit I wrote on my phone or synching it with the online version. After that, it was a simple copy and paste, or saving it as its own document and going from there. Perfect for adding pieces to your story when you're not around a computer and in an otherwise impossible writing environment.
Blogging/Twittering
Blogging is a no-brainer. It may not make you a guaranteed success, but it is a good way to share your work with others, network, and just simply get some writing done.
I tweet short stories. I'll say no more about that.
Self-publishing
This is one that I am hesitant on myself. I fear that I would be sacrificing my full potential by opting to self publish. I do not have much experience with the publication part of writing, or the rejection letters and the queries. I see publication as the final step, the seal of approval from the world that you have what it takes. I can't help but think that self-publishing, for me, would be 'settling.' But I realize this is not the case for all people. In fact, making a success for yourself is, arguably, more remarkable than having a prestigious publishing giant do it for you, even if it was a hell of a time getting noticed by them.
With ebooks and now ebook reading devices such as the Kindle and the Nook, self-publishing is less of a daunting undertaking. You don't have to ge the book bound and sell physical copies and you can make any document, with the right formatting, look as professional as any bestseller on these devices. The trick is marketing for yourself and getting the ball rolling. In a way, it's like starting your own business, but many people find success in that, so why can't a writer?
Marketing Yourself
I attended the Stanford Publishing Course for Professionals last year and over 50% of the content was about the new media market and its effects on the publishing industry. As for seeking publication, nothing is more important than the quality of your work. That hasn't changed. But publishers also feel better knowing their authors are willing and ready to market themselves through social media by keeping a blog, being active in online discussions, etc, etc.
I'd even advise asking an agent if they would like to see a video synopsis of your novel and, if you think you can give your work justice in such a way, record your pitch and send it in. It will show whomever that you are ready to promote your book in a way people of today will recognize.
Final Words
In the end, it's all what works for you. Neither should you feel pressured nor left behind because you prefer the 'old fashioned' way. At the same time, don't feel like you are any less of a credible artist because you write on your phone or tweet short stories. I don't.
A word of warning, though. A lot of these methods can help with procrastination, so don't let them become a distraction themselves. I've spent way too much time in the past week looking for iPhone apps, for writing or otherwise.