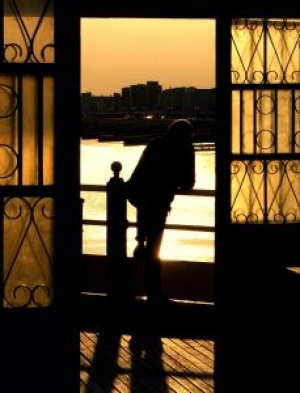 I used to go into bookstores all the time and lament the fact that I didn't have a book on the shelves with my name on the spine. It was if there was some secret society of famous writers huddling in a room somewhere, conspiring to keep me from my dream, eating up all the publishing spots. Why couldn't I get in?
Then I went to a writer's conference, and everything changed.
I attended the San Diego State Writer's Conference, but there are many held all over the world. The key to success at these gatherings is really the people they draw: agents, editors, people who live and breathe the publishing world. The people who can open the magic door for you so easily that it takes your breath away.
My first conference was not that great. I didn't know what to do. I signed up online, scheduled some advanced reading sessions with agents and editors (for an extra fee) and waited. When I arrived, I checked in, got my schedule, and strategized which sessions I would attend and waited for those appointments. I was nervous. I imbued those meetings with so much meaning that they were pretty much destined to go horribly. And they did.
At that time, I had no idea what an elevator pitch was. After several years of conference attendance, Ii know what it is and I can do it. At that time, though, I hadn't really planned what I was going to say since I had no concept of how these brief meeting would unfold. Here's how they work: You have an appointed meeting time. You show up, notebook and pen in sweaty hand. You look on a large whiteboard for the name of the person you are to meet, identify where they will be in the room, and wait some more. The ten minutes that the people before you re meeting seems incredibly long. A bell rings, the previous hopefuls exit, and when you're given the signal, you and about 50 other writers rush into the room, playing a mad game of hide and seek so you don't waste your precious ten minutes. The clock is ticking.
My first scheduled meeting with an agent was awful. He was not very personable, all business, and had no time for my stumbling and fumbling and lack of confidence. Ten minutes goes by faster than you could possibly imagine, too, when it's your meeting. At the end, I pathetically asked, "So, could I send you some pages?" to which he replied, "No thanks." Ouch.
That first conference was a fantastic learning experience. I realized that if I don't advocate for my work, no one else will. I learned more and more about the writing process itself, grew as an author, and the next year came back armed with knowledge and experience, ready for battle. I waited, took my meetings, no one was impressed. I had probably been too confident, too polished, too practiced. No success.
By year three, I can honestly say that I had detached from the publishing process. I honestly still wanted to be published, but I had decided that the business was stupid, and that people who came to the conferences probably just showed up for a free vacation in San Diego. This time when I met with my agent and editor, I had the attitude of respect and detachment. I knew my work was good. I wasn't going to push it or defend it. It was what it was. If that was interesting, great. If not, godspeed.
That year, I met an editor who changed my life. She loved ht pages I'd sent her. She requested more. Eventually she signed me to a 2-book deal. I also met my future agent at this same conference. She didn't sign me right away, but she eventually did. What was the difference? Was my writing remarkably better? That's highly possible. I learned a lot over those two years, read a lot of books on writing and read fiercely. But I think the real reason I found success was because I detached.
I detached from the outcome, I detached from needing to prove I was a good writer, I detached from feeling desperate. In publishing, as in dating, people can smell desperation like a gallon of cheap cologne.
My advice: attend a writing conference. Observe. Attend sessions and learn. Meet other writers. Don't be attached to any specific outcome. And don't pitch people while they're in the bathroom. They really don't like that.